MuscleMecca Crew
VIP
Author
Joined

May 11, 2012
Messages

2,939
Points

48
2021 European Championships
May 13,14,15,16,17, 2021
Santa Susanna, Spain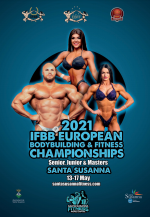 The EUROPEAN BODYBUILDING AND FITNESS FEDERATION (EBFF), Santa Susanna City Hall and the Tourist Foundation of Santa Susanna extend a warm welcome to all EBFF National Federations to participate
in the EBFF European Bodybuilding, Fitness and Juniors & Masters Championships and EBFF Congress, in
Santa Susanna, Spain, which will include the following disciplines: Men's Bodybuilding, Men's Classic Bodybuilding, Men's Classic Physique, Women's and Men's Fitness, Bodyfitness, Bikini-Fitness, Wellness Fitness,
Men's and Women's Physique, Mixed Pairs, Men's Wheelchair Bodybuilding, Fit-Pairs and Beginners.
Santa Susanna is a popular touristic resort, located at the Mediterranean cost of Catalonia (Spain).
Santa Susanna, as an international tourist centre, has gained a renowned reputation in the field of promotion, management and implementation of international sports and cultural events. It has been the successful venue site of more than 30 International Championships, numerous World and European Championships
and is known as THE WORLD CAPITAL OF FITNESS.
Santa Susanna is located in the centre of the Maresme coast, on a quiet spot surrounded by a splendid garden, at the foot of Montnegre's hill. It is easily accessible through the N-II road, C32 motorway, and train. As
well, it is close to Gerona and Barcelona airports - an easy reach from any arrival or departure point. It is
located between the sea and the mountain and here we can find a new holiday place with the possibility to
stay at comfortable hotels, apartments or campsites. Surrounded by the greenness of its mountains and the
blue of its waters, Santa Susanna has become an important holiday centre.
For more visit
IFBB.com.