MuscleMecca Crew
VIP
Author
Joined

May 11, 2012
Messages

2,938
Points

48
The Austrian oak, Arnold Schwarzenegger has al;ways been driven by success. It is part of the reason he is probably the most iconic bodybuilder of all time.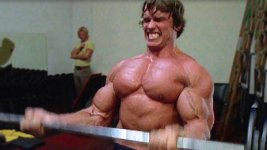 Classic Bodybuilding, Success Driven Arnold Schwarzenegger
By Sharon Aguirre
There are icons that are identified in every game. Mohamed Ali will still continue to receive the attention in the world of Boxing. The Brazilian star, Pele, made great impact inn football, and was honored with a ministerial post in his country.
There is no sports icon that is probably rated to have had more achievement than Arnold Schwarzenegger. Arnold is a name that has been associated with the popularity of classic bodybuilding all over the world. Arnold has given Classic bodybuilding a very great facelift. It initially used to be described in many parts of the world as a game of social deviants. The game had no support, and it was not highly esteemed.
Since 1965 when Arnold Schwarzenegger won the Mr. Europe Junior Championships in Germany, the icon has continued promoting classic bodybuilding and shaped opinion of the people regarding it. The popularity of classic bodybuilding is actually owed greatly to the success Arnold Schwarzenegger. Arnold is reputed for starting a TV show to promote classic bodybuilding.
It is perhaps his great talent in theater that made him up in the limelight in the promotion of classic body building. Arnold has featured as a main actor in many of the world classic movies which include the Villain, Terminator, Conan the Destroyer, Commando, The running Man, Conan the Barbarian and others.
In the world of classical bodybuilding, Arnold Schwarzenegger is reputed to be the sportsman with the largest number of awards in the industry. The awards include Mr. Europe, NBBA Mr. Universe, Mr. Universes Professional England, My Olympia Germany USA, South Africa and England.
The success of Arnold Schwarzenegger can also be seen in the business and leadership arena. Arnold is currently the Governor of the USA most populous State of California.
With Arnold Schwarzenegger in the picture, the world of Classical Bodybuilding will continue getting the attention in the international arena.
Source
​