MuscleMecca Crew
VIP
Author
Joined

May 11, 2012
Messages

2,939
Points

48
Here are a few huge contenders in no particular order who you can see at the 2018 Arnold Strongman Classic!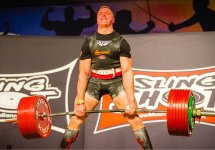 First up is Brian Shaw. He won the Arnold Strongman last year and he is a 4 time World's Strongest Man winner! Brian is from the USA.
Here is a video of Brian Shaw doing a 1,000 lb deadlift! He is not fucking around! 1,000 lbs!
Next on the list, also from the USA is Jerry Pritchett. Jerry came in 3rd last year but holds a world record lifting the elephant bar of 1,031 lbs! Watch it below!
From Poland we have Mateusz Kieliskowski. He is the youngest to ever compete at the Arnold Strong man! Mateusz is only 21!
Here he is at last year's Arnold Strongman carrying timber. 517 kg of timber!
Mikhail Shivlyakov is from Russia and he won the 2014 Arnold Amateur Strongman. Mikhail is 6'2 and used to be a power lifter and a marine! Not someone to fuck with!
Here is doing a 200kg log press! This was while training for the 2016 World's Strongest Man Contest.
The last but not least Arnold Strongman Classic competitor we will be mentioning is Dimitar Savatinov from Bulgaria. Dimitar holds the world record for one arm press of 315 lbs!
Here is Dimitar setting the world record with a 143kg dumbell press!
We will be watching the 2018 Arnold Strongman Classic. Will you!