Joined

Jul 6, 2017
Messages

4
Points

0
About
hillip "Phil" Jerrod Heath (born December 18, 1979 in Seattle, WA) is an American IFBB professional bodybuilder and current Mr. Olympia. Known as "The Gift".. He won the Mr. Olympia 6 times!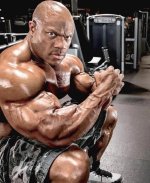 His Bio:
Prior To Bodybuilding, I participated on the University of Denver (Div.1-A) Men's Basketball team (1998-2002) as a point/shooting guard for the Pioneer's. This experience there taught me many key lessons such as hard work ethic, self-discipline, respect for others, humility and accountability. I found that even though my collegiate career wasn't as successful as my high school career, I could still achieve greatness through the many lessons I learned. Being a basketball player was every kid's dream growing up in my neighborhood and I happened to love it too. I enjoyed practicing for hours on end and because of that, I became better and better. I was rewarded for my hard work and discipline for basketball and academically by DU in being awarded a full student-athletic scholarship.
After my basketball career was over, I continued to train, but now with new guys who in fact where into bodybuilding. I never thought of myself as a bodybuilder, but did see myself quite muscular for a 'hoopster', so I gave it a try. I changed my whole workout program from basketball prep, to hardcore training. I actually liked training like this because of my new friends being so competitive. I immediately saw the correlation of hard work and discipline between these two sports, which made me extremely interested in the sport of bodybuilding. I soon learned the mechanics of training like a bodybuilder and loved seeing the pumps in my arms, legs, chest. My friends took notice also, which made me want more. They would push me to new limits every workout which I loved because of the new comraderie I had which was quite similar to the rapport I had with my basketball teammates.
Also, my eating habits took a dramatic turn too, from eating only 3 times, to now 6 to 7 times per day. I new I loved this sport when I would watch bodybuilding events in person or on television, mesmerized by the level of muscularity, balance, symmetry and conditioning.
I started training for my first contest (NPC Northern CO. 2003) on October 8, 2002. I purchased a digital camera and took my very own pre-contest photographs. I continued to do this because it allowed me to view my physique and make adjustments in my training according to my shape and proportion. I felt that the pictures would never lie and they would keep me motivated into being a better bodybuilder day after day. I started out at 185lbs and grew into a 215lbs machine with 6% bodyfat which I found amazing, but achieveable because of my family's genetics. I competed at the 'Northern' as a 192lbs light-heavyweight. I couldn't believe the sacrifice I had to go through in order to achieve this level of shape and conditioning. I took my novice and open classes, winning the overall men's title. After that huge win, I was hooked and began training harder and eating smarter.
I competed 8 weeks later at the NPC Colorado State show again as a light-heavy, weighing 196. I competed against many strong competitors and I was honored with straight 1st's. However, I didn't win the overall that year, I learned that I must take this sport a lot more serious because I totally relied on my genetics and that cost me to lose by 1 point. Once I enlisted myself into a hardcore gym, I began having a better focus on training. I began to grow and grow and grow gradually throughout the later part of '03. I had my eyes set on the NPC Junior Nationals, but failed to enter before the deadline. Again, I was reminded that I must take this sport more seriously, just as I did with basketball. I then entered the NPC Colorado State show and took the Mr. Colorado title, competing as a 200lbs heavyweight. I continued to train and that following year entered the NPC Junior Nationals and took the overall there too.
I was on a roll, I couldn't believe it. On June 20th, I signed with Weider Health and Fitness, which was a true blessing to me thanks to Jay Cutler and Peter McGough. Now with all of these shows under my belt, I felt it was necessary to compete for my pro-card at USA's. I went up against some of the best physiques in the country and I was very nervous. I knew that by keeping my faith along with my friends being close by, I would manage to take care of business. I spoke with my mentor/big-brother Jay Cutler and Peter McGough, along with others to keep focus on the show and proving to myself and the world that I am coming with my best package. I later that week, I won the USA's, weighing in at 215lbs and taking overall honors. I was so excited that I didn't know what to do.
Now, as an IFBB pro, I intend on representing the sport of bodybuilding in a way that many people can relate to and in a way that mainstream society will respect. I hope to be one the greatest of all-time, but even if I fall short of that dream, I want to have as much fun as I possibly can because of one's career in bodybuilding being so short. I will continue to bring my best package to every contest and also stay humble and personable
https://musclemecca.com/forumdisplay.php?f=308
Phil Heath Bodybuilding Pro List Page
Official Phil Heath Updates:
https://musclemecca.com/showthread.php?t=235088
Follow the 2017 Mr. Olympia:
https://musclemecca.com/showthread.php?t=236920
http://www.phillipheath.com/about/index.htm

His Website:
http://www.phillipheath.com/
-
https://www.phillipheath.com/store/
Check out his store, if you didn't know Phil does occasionally post in the IFBB section.
Twitter:
http://twitter.com/#!/PHILHEATH
His Wiki:
http://en.wikipedia.org/wiki/Phil_Heath
Last edited by a moderator: