TalkAdmin/MuscleMecca
Staff member
Staff
Member
Joined

May 27, 2010
Messages

5,035
Points

48
We lost another bodybuilding legend. Her name was Stacey Bentley and she was only 63. She was one of the first female bodybuilders and she competed in the first female bodybuilding event in 1979. She took 4th place but went on to win 3 others before she retired. She retired bodybuilding to become a nurse.
Stacey died on New Years eve. RIP Stacey Bentley.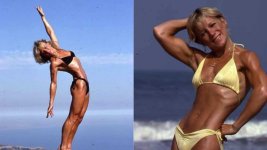 From close friend Roger Schwab:
Sadly, suddenly and quietly, our earth lost a unique vibrant star.
On December 31, little beauty Stacey Bentley passed away.
So many memories! Stacey was our first employee at Main Line Nautilus in 1976. Very close friend and confidant John Balik recognized Stacey's unique physique potential with her delicate, fine lines and whisked her away to the bright lights of Southern California. John's eye for extraordinary talent and his remarkable ability to capture this budding athlete in her particular elegance in pictures, created this soon to be legend in her field. It was Stacey, along with Lisa Lyon, Claudia Wilburn, Lynn Conkwright, Rachel McLish and other innovative pioneers who issued in Women's bodybuilding into the previously all male physical domain.
What a treasure she was! She represented the beauty and grace of the "golden era" of Muscle Beach.
Along with Arnold and Franco, she adorned the sunny beaches of Venice and Santa Monica. Her star shone brilliantly. Alas, everyone basked in her glow. It all happened quickly. Perhaps too quickly.
When the sunny California skies yielded to a darker side of bodybuilding, Stacey, having realized her own physical potential, sought her way out, a new direction, a new life.
The recognition and admiration
had been overwhelming. Leaving, created a void. Through profound faith and the insatiable need for giving and helping others, Stacey, often painfully, at times triumphantly, made her way through the "long and winding road" of life.
She called me on December 28 just to say "hi." She sounded strong, healthy and loving.
Now she is gone. God, please bless her.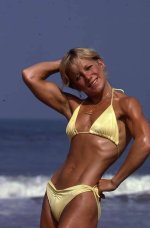 Last edited: