TalkAdmin/MuscleMecca
Staff member
Staff
Member
Joined

May 27, 2010
Messages

5,167
Points

63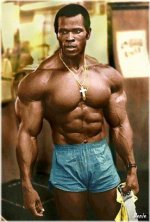 Serge Nubret started really getting into bodybuilding in 1958. He became a world champion bodybuilder after only 2 years by becoming the World's Most Muscular Man! You may have seen him in Pumping Iron!
Serge Nubret came in second to Arnold Schwarzenegger at the 1975 Mr. Olympia and he beat Lou Ferrigno who came in 3rd!
Serge Nubret Bodybuilding Competition List
1958: Mr. Guadeloupe
1960: IFBB World Most Muscular Man
1963: NABBA Pro Mr. Universe (2nd)
1964: NABBA Pro Mr. Universe (2nd)
1969: NABBA Pro Mr. Universe (3rd)
1969: IFBB Mr. World (Tall) (2nd)
1970: IFBB Mr. Europe (Tall)
1972: IFBB Mr. Olympia (3rd)
1973: IFBB Mr. Olympia (3rd)
1975: IFBB Mr. Olympia (Heavy Weight, 2nd)
1976: NABBA Pro Mr. Universe
1976: WBBG Mr. Olympus (2nd)
1977: NABBA Pro Mr. Universe (2nd)
1977: WBBG Mr. Olympus
1977: WBBG Pro Mr. World
1978: NABBA Pro. Mr. Universe (2nd)
1981: Pro WABBA World Championships
1983: Pro WABBA World Championships
Serge Nubret Bio
Birthdate: October 6, 1938
Birthplace: Guadeloupe
Died: April 19, 2011 (aged 72) in Paris, France
Nickname: The Black Panther
Height 1.83 m (6 ft)
Weight 99 kg (218 lb)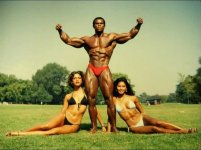 Serge Nubret was also an actor in many films:
My Son, the Hero co-starring Giuliano Gemma (1962)
Goliath and the Rebel Slave, co-starring Gordon Scott (1963)
Un gosse de la butte, co-starring René Lefèvre (1964)
13 Days to Die (1965)
The Seven Red Berets, co-starring Kirk Morris (1969)
The Cop (1970)
César and Rosalie, co-starring Yves Montand (1972)
Pumping Iron, co-starring Arnold Schwarzenegger and Lou Ferrigno (1976)
Breakfast Included, (TV Series) (1980)
The Professional, co-starring Jean-Paul Belmondo (1981)
Série Noire, (TV Series) (1984)
Sins, (TV Series) (1986)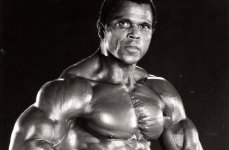 From Wiki:
All were amazed and perplexed when he started to talk about his intention to become a world champion after only 2 years of training. Living up to his words, in 1960 he joined the International Federation of Bodybuilders, and was declared World's Most Muscular Man in Montreal. From this day forward, this exceptional athlete kept improving, winning the most prestigious titles including NABBA Mr. Universe in 1976 (London), WBBG Pro. Mr. World and Mr. Olympus in 1977 (New York) and another World champion title in 1981 (Geneva). In 1983, 23 years after his first world class achievement, further demonstrating his lifetime dedication, he became the WABBA World Champion in Rome, winning his fifth major title. In 2003, Serge Nubret offered a stunning last show to his public during the World championships in France (Gravelines). He was 65 years old.
Additionally to being recognized by experts, peers and fans as a reference in the bodybuilding field, Serge Nubret has also dedicated himself to development and promotion of Bodybuilding. He became the head of the France and Europe IFBB bodybuilding federation from 1970 to 1975. He is also the founder of the WABBA since 1976 with one objective in mind: ensuring that affiliated athletes receive the best support via representing organisations. The cinema could not miss out on such a character. Thus, Serge Nubret featured in 25 movies including Arrivano i titani with Giuliano Gemma (1961) César et Rosalie with Romy Schneider and Yves Montand (1972) and The Professional with Jean-Paul Belmondo (1981). Serge Nubret remains one of the most significant figure and for lots of bodybuilders, he represents the out-of-the-box aesthetic reference. His legacy is well alive, witnessing the Golden Age of bodybuilding when balance and harmony were keys to all achievements.
Nubret is best known in the bodybuilding documentary Pumping Iron where he competed as a last-minute entry against (eventual seven-time winner) Arnold Schwarzenegger for the title of Mr. Olympia in 1975. While he looked fantastic, Serge finished second in the Tall Man category to Schwarzenegger, while Lou Ferrigno finished third. He was known for his excellent chest development, which would scare off fellow contestants.
The documentary film Pumping Iron follows the events occurring before the Mr. Olympia 1975—the preparation for the competition as well as its final phase. For contract reasons, his part is comparatively brief; and, apparently, certain scenes containing him could not be put in the movie. These episodes are discussed further in his autobiography.
In the 1980s, Serge appeared regularly in 60 episodes of the television series Breakfast Included, with Pierre Mondy and Marie-Christine Barrault, in which he played a role that mirrored his real life as a bodybuilder/gym owner in Paris.
Nubret was father to three daughters (Pascale, Karine and Grace) and a son (Stanley) from two marriages and one relationship. His second marriage was with Jacqueline Nubret, a female bodybuilder with various competition titles.
In March 2009, Nubret fell into a coma, eventually dying on April 19, 2011 of natural causes.