TalkAdmin/MuscleMecca
Staff member
Staff
Member
Joined

May 27, 2010
Messages

5,171
Points

63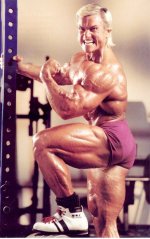 Have you heard of Tom Platz? Well he is one of the most intense body builders present today in the world. Millions of people are inspired by him and have tried to follow his example in order to get a similar body structure.
Who is Tom Platz?
Tom Platz or Thomas Steven Platz is a retired professional American body builder who has made a niche for himself in the industry. He acquired the following nicknames in his career.
· The Quad Father
· The Golden Eagle
· Quadzilla
Because of his success and fame he is still called by the above mentioned names.
His body building career is magnificent
Tom was born in the year 1955 in Fort Sill, Oklahoma and he began his bodybuilding career quite young in the year 1973 in the Mr. Adonis competition. It was in the year 1978 when he won the competition for the first time in the amateur category. For nine years Tom Platz competed in the Mr. Olympia contest but he never stood first. In the 1981 competition he finished his best in the 3rd spot.
This amazing bodybuilder retired from professional bodybuilding contests in 1987 but he made a comeback once again in 1995 for his sheer love of the sport. After his comeback he was awarded with the title of Honorary Mr. America. He has taken part in several such contentions and has also won many awards for which he is still respected and honored for today.
What made him so popular?
Do you know what made him so popular and famous all across the globe? It was the high intensity and rigorous training methods of legs that led to his unimaginable size and body structure. In the entire bodybuilding circle his legs are considered to be the best of all others. In fact, he features the best hamstrings and quads of all times. Isn't it such a huge compliment?
How did he manage to do this?
He has been known worldwide for his extremely high intensity workout. It might seem insane but there are reports that he squat 8 reps with 635 pounds and 52 reps with 350 pounds. He is himself not more than 250 pounds. This sounds so unreal, isn't it?
Furthermore he is also known for 100 reps with 225 pounds in 10 minutes. These are not just for his publicity but there is a video proof where he is found squatting 23 reps with 495 pounds. This is how he acquired the best legs and hamstrings in the industry and is also regarded as the Quad Father.
What was Tom Platz's training principle?
Platz enjoyed getting involved in the vigorous physical training sessions. The capacity or the potential to execute squats and do reps straight in ten minutes without taking breaks is simply mind blowing and a difficult task for deliver it precisely and accurately. His simple principle was that the harder and intensified the session, the better it is.
Leg curls and leg extensions for more than 10 minutes at stretch is indeed a tedious and extremely challenging thing that only few professionals like Tom Platz can do. Perhaps this is the primary reason why he could attain such massive and strong quads. Do you wish to acquire the same physical or body level, huh?
Do you know about his educational background?
He is one of the most popular guest speakers specializing in general fitness, nutrition etc. For fourteen years he acted as the professor and the director of the body building association at ISSA. Tom is an educated person with masters in Business Administration from the University of California and in Fitness Science. He also has the bachelor's degree in nutrition and science physiology.
Have you gone through his book?
Tom Platz is the author of the popular book called the Pro Style Body Building that was completed with the help of another author, Bill Reynolds. This particular book with one ninety two pages has been very well received by the people all around. It also features pictures and the explanations of the various body building techniques are simply mind blowing.
The methods and techniques are well explained in simple and easy terms. You can also tone your muscles and lose the extra pounds that bulges out from different areas of your body. The diets and the meal plans mentioned in this amazing book is also worthy of notice and appraisal.
One of the best parts about Pro Style Body Building is that it is available at a reasonable price rate or cost which makes it so easy for everyone to afford. You can get this book too from any departmental stores or from the internet retail sites and start building your body too.
Tom Platz Competition List
1978 World Amateur Championships - IFBB Mr. Universe
1978 Mr. America - AAU, Short, 2nd
1977 Mr. Southeastern USA - AAU
1977 Mr. America - AAU, Short, 2nd
1976 Mr. America - AAU, Short, 3rd
1975 Mr. Michigan - AAU
1974 Junior & Senior State Powerlifting Championships - AAU, 220 Class Champ
1974 Teen Mr. America - AAU, 2nd
1973 Mr. Adonis - AAU
1973 Mr. Ironman – AAU
1979 Mr. Olympia 8th (under 200 pounds)
1980 Grand Prix: Lafayette, Louisiana 9th
1980 Grand Prix: Pittsburgh 10th
1980 Night Of Champions 14th
1980 Mr. Olympia 9th
1980 Pro Mr. Universe 2nd
1981 Mr. Olympia 3rd
1982 Mr. Olympia 6th
1984 Mr. Olympia 10th
1985 Mr. Olympia 7th
1986 Mr. Olympia 11th
1987 Grand Prix: Detroit 6th
1995 Honorary Mr. America - AAU
Copyright musclemecca,com 2013
Not to be used without written consent
Here are some additional Tom Platz images!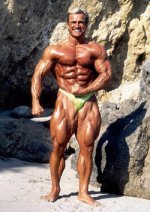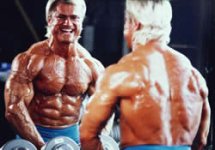 Last edited: