Joined

May 22, 2015
Messages

120
Points

18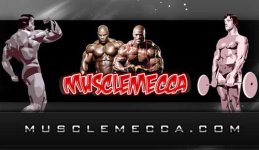 Welcome to MuscleMecca Bodybuilding, Diet and Nutrition Sports Forums! Our bodybuilding forum has been going strong since 2004 and over 2,500 bodybuilders and enthusiasts visit us every day! During big bodybuilding competitions like
Mr. Olympia
and
Arnold Classic
MuscleMecca can get over 50,000 visitors in a single day!
You may ask why so many bodybuilding enthusiasts and fans visit our bodybuilding forums every day? Because we are bodybuilding enthusiasts and fans like you! Some of our members go to these events or even participate and we always report on them! People come back because they find bodybuilding bios, stats, competition score cards and more!
You will find just about everything and anything related to bodybuilding here on musclemecca! Be sure to check out our
Bodybuilding Pro List
where we have bodybuilding bio's and stats from many of the biggest and most famous bodybuilders. If you want us to write another bodybuilding bio just mention it and we will do it.
Visit
The Gym
for everything bodybuilding! See our official update threads, find event info and coverage, training, diet, sponsor reviews and more!
Rather than list everything here at MuscleMecca I will just send you to our
Bodybuilding Forums
! There you will find everything from bodybuilding competition coverage on shows like the Mr. Olympia and Arnold Classic, Bodybuilding Galleries, Videos and More!
Follow Musclemecca Bodybuilding Forums:
https://www.facebook.com/MuscleMeccaForums/
http://www.twitter.com/MuscleMecca
https://www.instagram.com/musclemeccabodybuilding/
https://www.youtube.com/user/MuscleMeccaVideo/videos