Joined

May 22, 2015
Messages

120
Points

18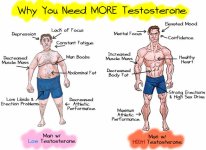 Testosterone Deficiency
Testosterone hormone is produced by the male testicles. It is responsible for the proper growth and development of the male sexual traits. It is also critical in maintaining muscle bulk, bone growth, sexual function, sufficient levels of red blood cells, and a sense of well-being.
What is testosterone deficiency?
Testosterone deficiency is a critical clinical condition which affects men of all ages. Treatment with testosterone hormone provides relief from the symptoms of a deficiency in majority of men affected, and it improves their general health. Thus, there is great value for the practicing clinician when it comes to awareness of the condition, and diagnosing and treating the condition. Before any form of treatment is chosen a man's desire for fertility should be considered. Treatment choices are usually based on a patient convenience and preference.
What causes low testosterone?
As a man grows older, the amount of testosterone hormones in his body gradually declines. This decrease starts after the age of 30 and continues throughout life. Some other causes of testosterone deficiency include infection, injury, loss of the testicles, chemotherapy, genetic abnormalities like extra X chromosome, Klinefelter's syndrome and hemochromatosis (excess iron in the body). Other causes include deterioration of the pituitary gland (it is a gland that is situated in the brain, and it produces many important hormones), inflammatory diseases like sarcoidosis (it is a condition that causes inflammation of the lungs). And also, chronic illnesses like kidney failure, liver cirrhosis can also cause testosterone deficiency. Stress, alcoholism, and obesity (especially in the abdominal region) and some medications such as hormones used in prostate cancer treatment and corticosteroid drugs can cause low levels of testosterone.
What are the symptoms of testosterone deficiency?
Without enough testosterone, a man can lose his sex drive, and experience erectile dysfunction, or even feel depressed, have a decreased sense of well-being, and difficulty concentrating.
What changes can occur in a man's body due to testosterone deficiency?
Having low testosterone levels can cause some physical changes such as decrease in muscle mass, and an increase in body fat, changes in cholesterol levels, a decline in hemoglobin levels and possibly mild anemia, and a decrease in body hair.
How to determine if you have a testosterone deficiency?
The only way to detect this condition is to consult your doctor and have him measure the amount of testosterone hormone in your blood. Because testosterone levels fluctuate through the day, several measurements have to be taken to detect any deficiency. Doctors prefer, to test testosterone levels very early in the morning, as that is when testosterone levels are high.
How is testosterone deficiency treated?
Therapies, such as long-acting injections, are beginning to gain popularity. They have an advantage of superb compliance and an attainment of stable and physiological plasma testosterone levels in a higher mid-range of uniformity over biological and chronic effects on target organs. Testosterone treatment should not begin without the appropriate baseline studies, and men receiving this therapy require monitoring for as long as they will receive treatment. It is not unusual if some types of treatments are associated with risks, but in this therapy, there is no evidence of an increased risk of cardiovascular events and prostate cancer.
Treatment of this condition provides critical benefits to the patient, along with the satisfaction of the affected patients, their partners, and their treating physician. Other testosterone deficiency treatments include, intramuscular injections, (these injections are usually given from two to ten weeks apart), testosterone gel (it is usually applied inside the nose or on the skin), Mucoadhesive material (this is applied above the teeth twice daily), and testosterone stick (is applied like an underarm deodorant). Each of these treatment options provides patients with sufficient levels of hormone replacement; however, these treatments also have different pros and cons. So a patient should speak with his doctor to see which treatment is appropriate.
You might ask are there side effects when it comes to treatment for testosterone deficiency? What are these side effects? In general, this replacement therapy is safe. However, it is associated with several side effects, which included, mild fluid retention, acne or oily skin, stimulation of prostate tissue, increased urination symptoms (such as a decrease in frequency or stream), a higher risk of prostate cancer, an increased risk of blood clots, breast enlargement, worsening of sleep Apnea (Apnea is a sleep disorder which results in daytime sleepiness and frequent nighttime awakenings), decrease in testicular size, mood swings, increased aggression, and an increased risk of heart attack.
Note that laboratory abnormalities usually occur during testosterone hormone replacement therapy. These laboratory abnormalities include changes in cholesterol levels, an increased red blood cell count, a decrease in sperm count, infertility (this is very common in younger men), and an increase in PSA levels.
Note that, if you are receiving hormone replacement therapy, you should make regular follow-up appointments with your doctor as they are critical. Also, note that men who have been diagnosed with breast cancer or prostate cancer should not receive testosterone hormone replacement therapy. Neither should men who have untreated severe sleep Apnea, severe urinary tract condition, or uncontrolled heart failure takes this therapy. All men who are considering testosterone hormone replacement therapy must undergo a thorough screening for prostate cancer, a rectal exam, and a PSA test.
Just like any other medication, directions for administering testosterone treatments must be strictly followed exactly as your doctor recommends. If you are unsure, or you have any questions regarding testosterone hormone replacement therapy, you should ask your doctor.