Joe Pietaro
Joe Pietaro Contributer
VIP
Author
Joined

May 30, 2014
Messages

1,233
Points

63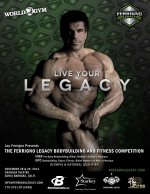 By Joe Pietaro for musclemecca.com
11-26-2014
There was a time not too long ago when Ronny Rockel was considered one of the best bodybuilders in the world. The German had been on the IFBB pro circuit for a number of years and competed in multiple shows every year but finally came into his own in 2010.
Rockel placed sixth at the sport's two most prestigious shows that year (Arnold Classic, Mr. Olympia) and followed that up with a repeat placing at the 2011 Arnold and won the Mr. Europe Grand Prix.
But he slipped out of the top six - and eventually top 10 - at the top tier shows and most recently placed 13th at last year's Arnold Classic.
In 2014, the 42-year-old has improved his placing at each competition leading up to this weekend's extravaganza in California:
*EVLs Prague Pro - 10th
*San Marino Pro - 9th
*Nordic Pro - 4th
*Fitness House Russia Pro - 2nd
How much longer Rockel dons the oil and posing trunks remains to be seen, but it would be a fitting end to a successful career by standing in the winner's circle his last time on the stage.
Visit our 2014 Lou Ferrigno legacy pro Thread for updates and information on the 2014 Ferrigno Legacy pro!
Visit our Lou Ferrigno Bodybuilding pro Page!