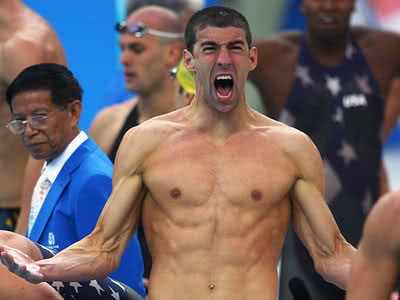 He told NBC he begins the day by eating three fried-egg sandwiches with cheese, lettuce, tomatoes, fried onions and mayonnaise.

Phelps' washes it down with two cups of coffee, a five-egg omelet, a bowl of grits, three slices of French toast topped with powdered sugar and three chocolate-chip pancakes.

At lunch, Phelps gobbles up a pound of enriched pasta and two large ham and cheese sandwiches with lashings of mayo on white bread - and chasing the sammies with 1,000 calories worth of energy drinks.

Then dinner is served, Phelps five-hours-a-day, six-days-a-week regimen is rewarded with a pound of pasta and an entire pizza.

Followed by 1,000 calories worth of energy drinks, again.
http://blogs.wsj.com/health/2008/08/13/the-michael-phelps-diet-dont-try-it-at-home/