Joined

Sep 9, 2006
Messages

18,621
Points

83
The 2016 Olympia Europe!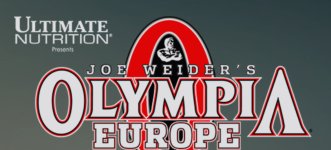 Mr. Olympia Europe is coming back...


Zum ersten Mal seit 1983 wird im Oktober 2016 der IFBB Pro Contest "Mr. Olympia Europe" wieder in Deutschland stattfinden. Die Stars der Szene, die zwei Wochen zuvor in Las Vegas ihren Sieger ermitteln, kommen in die Dortmunder Westfalenhallen und es heißt: Zeit für die Revanche! Knapp 1.800 Besuchern bietet die Halle 3A der Westfalenhallen Dortmund Platz, um beim Finale dabei zu sein.


Gleichzeitig wird in den Hallen 6 und 8 die Expo der Joe Weider´s Olympia Europe stattfinden. Erwartet werden an den beiden Tagen rund 15.000 Besucher und 80 Aussteller, die sich auf 13.000 QM präsentieren.


Die Expo beginnt mit dem "Olympia Europe Business Morning" - ein Special für die Fachbesucher: Am ersten Expo-Tag, wird es von 09.00 bis 14.00 Uhr keine Shows oder Musik in der Halle geben, so dass die richtige Atmosphäre für Fachgespräche herrscht. Einlass nur mit Gewerbeschein oder Athleten-Nachweis! Ab 14.00 Uhr öffnen sich dann die Tore für die Fans von Bodybuilding, Kraftsport und Fitness! "Olympia Europe XXL" am Freitag extra bis 20.00 Uhr. Samstags ist die Expo von 09.00 bis 18.00 Uhr geöffnet und am Abend findet das Finale des IFBB Joe Weider´s Mr. Olympia Europe statt. Zwei Tage volles Programm für die Branche!

Mr. Olympia Europe
October 2016
Germany
English Version:
For the first time since 1983, the IFBB Pro Contest "Mr. Olympia Europe" will be held again in Germany in October 2016th The stars of the scene, which determine two weeks earlier in Las Vegas its winners, coming in the Dortmund Westfalenhallen and it says: Time for revenge! Nearly 1,800 visitors provides the Hall 3A of the Westfalenhallen Dortmund place to be in the final here.At the same time in Halls 6 and 8, the Expo of Joe Weider's Olympia Europe will take place. Are expected on both days around 15,000 visitors and 80 exhibitors who present themselves at 13,000 square meters.The Expo will begin with the "Olympia Europe Business Morning" - a special for the visitors: At the first Expo Day, it is from 09:00 give to 14.00 clock no shows or music in the hall, so that the right atmosphere for discussions there. Admission only with trade license or athletes-proof! From 14.00 clock then the gates open for the fans of bodybuilding, weight training and fitness! "Olympia Europe XXL" on Friday separately to 20.00 clock. Saturdays opened the Expo 09.00 until 18.00 clock and on the evening takes the final of the IFBB Joe Weider's Mr. Olympia Europe instead. Two days full program for the industry!
The following bodybuilders and athletes will be at Olympia Europe!
Dexter Jackson
Shawn Rhoden
William Bonac
Cedric McMillian
Michael Kefalianos
Alex Fedorov
Alexey Shibuya
Abdelaziz Jellali
http://mrolympiaeurope.com/
Last edited by a moderator: