Joined

Apr 10, 2014
Messages

3,988
Points

48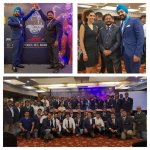 The 2017 Mr. Olympia Amateur
October 13 to 16, 2017
Mumbai
More coming soon on this event but here is some info we got from ifbb.com:
Under the leadership of the General Secretary of the Indian Bodybuilding and Fitness Federation (IBBFF), Mr. Sanjay More –as well, General Secretary of the Asian Bodybuilding and Fitness Federation (AFBF)-; the 1st. edition of the Olympia Amateur India goes ahead, in great progression.
Recent Monday 24th July, a meeting was held, in Mumbai; attended by officials from 29 states affiliated members, who represented their states with utmost enthusiasm and pride. This was one of the several coordinating actions, organized from the IBBF, to guarantee the success of the next coming Olympia Amateur India, scheduled for next October, 13 to 16, 2017 in Mumbai.
As a pro Qualifier event, this Olympia Amateur is open to athletes from IFBB-affiliated National Federations from Asia and will include the next categories:
▪ Bodybuilding (6 weight categories)
▪ Classic Bodybuilding (4 height categories)
▪ Men´s Physique (4 height categories)
▪ Bikini Fitness (4 height categories)
▪ Women´s Physique (2 height categories)