MuscleMecca Crew
VIP
Author
Joined

May 11, 2012
Messages

2,971
Points

48
79 Year Old Bodybuilder Ernestine Shepherd is still going strong and she is most likely the world's oldest female bodybuilder!
She started bodybuilding with her sister Mildred at age 56 because she thought they could get a world record. Her sister died though and Ernestine kept on going! Eventually she did get a world record for the oldest female bodybuilder still competing!
I say to my senior ladies and my men, age is but a number, and you can get fit.
Ernestine Shepard:
I wake up at 2:30 every morning. I say my devotions, I eat 10 egg whites … 16 ounces of water, and a handful of walnuts.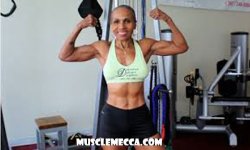 Last edited: