Joined

Apr 10, 2014
Messages

4,049
Points

63
The USA has huge problems with narcotics! I mean real narcotics like heroin and pain pills like Oxycontin and Vicodin! Why the fuck are they putting resources towards this harmless plant? Where else? Arkansas!
Police: Father, daughter among 3 arrested after nearly 8 pounds of drug found in Arkansas home
By Emma Pettit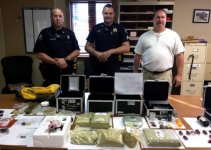 An Arkansas father, his daughter and another woman were arrested Tuesday after investigators raided a Bella Vista home and found nearly 8 pounds of a Schedule I drug, police said.
Bella Vista Police Department officers arrived earlier that day to search a local home suspected of housing drugs, according to a news release on the city's website.
The homeowners, who are the parents of 41-year-old Scott Howard Dostie, gave police permission to search the residence, saying they were unaware of any drug activity.
Police found nearly 8 pounds of Kratom, a Schedule I drug known to be sold in area schools, the release said. Police also reported finding prescription pills, suspected marijuana, mushrooms, empty pill capsules and a pistol.
Dostie, his 19-year-old daughter, Elexa Lyon Dostie, and another woman, 37-year-old Suzanne Michelle North of Oklahoma, were all arrested at the scene. North did not live at the residence but was staying there at the time, police said.
Charges are also pending against an unnamed minor, who was released to a parent.
Police said the elder Dostie admitted to sharing illegal drugs with his daughters, including methamphetamine, LSD and marijuana.
Sgt. Scott Vanatta said in the release that Kratom was only recently made illegal. It was added to the state Department of Health's list of Schedule I substances in October 2015. Opponents argued the drug offers natural pain relief.
A small dose of Kratom acts as a depressant, Vanatta stated, but a higher dose makes the drug a stimulant with an "opioid-type effect."
Scott Dostie and North were charged with possession of a controlled substance, possession of a controlled substance with purpose, drug paraphernalia, endangering the welfare of a minor and unauthorized use of property as well as several misdemeanor charges.
Elexa Dostie was charged with felony and misdemeanor counts of possession of a controlled substance as well as misdemeanor drug paraphernalia.
Scott and Elexa Dostie were released from Benton County jail. North remained at the lockup Friday in lieu of a $10,000 bond, the release said.
sOURCE:
http://www.arkansasonline.com/news/2017/aug/25/police-arkansas-father-daughter-okla-woman-arreste/