Bodybuilding News
Well-known member
Member
Joined

Jul 17, 2013
Messages

3,079
Points

48
He thought his competition days were over: Instead, Adrian Pietrariu willed his way to Athlete of the Year How did he do it? Up close and personal interview with Adrian Pietrariu Do you think some people are just born with the right genetics for bodybuilding? AP: Well, we all have the raw material; it's what […]
He thought his competition days were over: Instead, Adrian Pietrariu willed his way to Athlete of the Year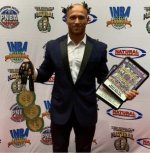 How did he do it?
Up close and personal interview with Adrian Pietrariu
Do you think some people are just born with the right genetics for bodybuilding?
AP: Well, we all have the raw material; it's what your choices are and what you dedicate yourself to, but I come from pretty raw-raw materials. If you could've seen me as a kid back in Romania in the 80s, you would not have put good odds on me living this kind of life. We were refugees in the Communist time, and my Mom and Dad moved us to Michigan in 1990; and at that point, my passion in life was McDonalds every Saturday night. That was like heaven to me back then, God Bless America! Then in high school and after that, I got into kickboxing, and taekwondo, and that was when I first got my body into shape.
How do you get from there to Athlete-of-the-Year?
AP: Well, I'm not what you'd call an overnight success, unless you count about 26 years of overnights. I never planned to become a competitive bodybuilder; I became a trainer to help people. I did a lot of personal training, a lot of 5:30am boot camps, and classes, all while training myself. I decided to start competing in bodybuilding competitions as a way to inspire my clients. It sounds corny, but my purpose as a trainer was about helping my clients live a healthy lifestyle, but most importantly instilling the belief within themselves that they too could get into great shape. I started competing in small competitions about fifteen years ago, and it was great because I had some success, so every two years I'd plan to compete in my next
natural bodybuilding
competition. Each time I competed Igot better and better.
Making hard choices everyday and seeing gradual improvements every year is a philosophy everyone should follow
.
But you don't just compete and train, you also judge and promote now?
AP: Yes, I've been with the INBA/PNBA (International Natural Bodybuilding Association/Professional Natural Bodybuilding Association) since 2009, and this is the organization I really love. What's great about having that consistency over time is; that when I compete with this organization, it feels more like family than with other organizations I have competed in. We're building a family with natural athletes from all over, 60 countries around the world. The INBA PNBA tests with WADA Labs and to the WADA Code, just like the Olympics, and it's the largest natural bodybuilding organization out there.
You rose to the level of Mr. Natural California, then stopped. Why?
AP: When I won the Mr. Natural California in
2009
, it was mind-blowing to me, and then I capped it off in 2013 and I went to the INBA World Championships in Greece and came home with a few medals, and I pretty much thought that was the top of it for me.
Did you decide to quit competing?
AP: No, I didn't decide to quit, I just stopped competing to focus more so on business. I became more involved with the INBA. I started judging, and later promoted the 2017 World Cup in L.A. to try and grow the sport; which was a first for me, and a great experience. Competing demanded so much focus from me and at the time something I'd left in the past, which I was okay with. However, I began to lose focus of myself, and started getting sick more often, not paying attention to my health. Then to top it off, my 40th birthday was coming up and that kind of thing makes you look at yourself in the mirror. I realized I wasn't who I wanted to be, who I started to be from the beginning. My goal was to help everybody obtain optimal health, but I forgot about myself. So in 2018,
I decided to come back out of retirement with a new focus: never giving up and push myself to the next level
.
How does someone like you take it to "the next level?"
I couldn't train the same as I'd always done, and how everyone else was, so I committed to training seven days a week, for two hours, no days off. Before I'd maybe do three days on, three off, or five on two off, and always include rest days, but this time, I said I'm just going to do it until I get to my goal and beyond. That was the new mindset I set up in my mind. I'm going to get in the best shape of my life– that's what I'm going to do. It wasn't easy, in fact, it was hell the first two weeks, I wanted to give up, but I pushed myself for a month, which was horrible, but I made it through the month! So I was like, what the heck, I'll keep it going!
Training seven days a week really took a toll on my body, and a friend recommended I try taking CBD "Cannabidiol" stemming from marijuana for muscle recovery. I was concerned at first, wondering if I was going to have the effects of inhaling or ingesting marijuana products, and was it WADA compliant, but CBD has a completely different effect on the body and for me it assisted with muscle soreness and fatigue. I started with 25 mgs, then 50 day now 100 a day. I can honestly say, I would not be able to train 7 days a week and as hard as I was without CBD and my daily vitamins.
So what happens after a couple months of 7 days a week without a break?
AP: Well, a funny thing happens when you put in the effort: you get results. When you put in the work, other opportunities will come to you. I had a friend who asked me why don't I compete again? I was skeptical, but then I won the Southern California Natural, and then the Muscle Beach and the US San Diego Warriors, Team USA and three Gold Medals at the Natural Olympia in both Masters & Open Bodybuilding and lastly, to top it all off Denny Kakos, World President and Founder of the INBA PNBA awarded me ATHLETE OF THE YEAR!
Sounds more like the Athlete of the Last 20 Years Award.
AP: The goal that drove all this came from what was in my mind at the beginning—to be in the best shape possible, without apologies or excuses. If someone would have told me that in December of 2017 I would get into the best physical shape of my life, best health of my life and also compete in five shows, and win all five, compete at the Pinnacle of Natural Sports, The Natural Olympia and end up winning three GOLD medals? I would tell them they were crazy!
Or maybe you're crazy?
AP: Yeah, that's probably more like it! In all seriousness, there is no magic pill. If you follow the plan, put in some serious hard work, focus, dedication, lots of hunger and you don't quit, amazing things can happen.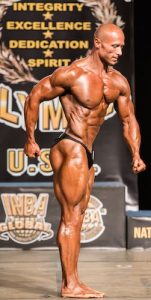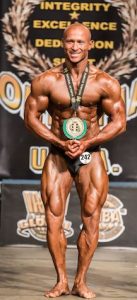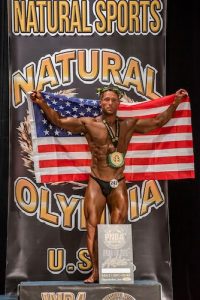 Click here to view the full article.