Joined

Apr 10, 2014
Messages

4,206
Points

83
10-year ban for steroid doctor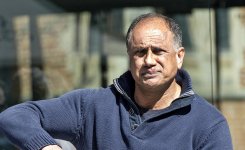 By Tim Clarke
Perth's "Dr Steroid" — who prescribed human growth hormone and steroids unnecessarily to high-profile Perth people, interstate crime figures and a former nude model — has been banned from the medical profession for 10 years.
Anish Dwarka Singh once charged thousands of dollars for treatments at the Empire Clinic in Leederville, advertising himself as "a world leader in specialist and diagnostic services in obesity and clinical medicine".
Yesterday, the State Administrative Tribunal ruled he would not be able to apply for a licence to practise until 2027, with the Medical Board of Australia describing his misconduct as some of the worst ever seen in Australia.
At a SAT hearing last year, it was revealed that from 2009 to 2014 Dr Singh prescribed a bewildering array of drugs to patients who had no therapeutic need of them.
He promised anonymity in return for cash for steroids and human growth hormone.
At least two patients suffered serious harm from the prescribed drugs.
One man prescribed steroids for more than two years needed surgery to remove enlarged breast tissue. Another patient, who was sent Stilnox in the post, collapsed because of benzodiazepine withdrawal.
Dr Singh's response during evidence was that "no one had died on him".
"Money is often a powerful incentive for the inappropriate prescribing of drugs," SAT president Jeremy Curthoys said.
"His conduct was plainly dishonest ... and involved cloaking prescriptions with the veil of a proper therapeutic basis.
"The sheer magnitude of Dr Singh's prescription of drugs is extremely worrying.
"There were some 740 patients. Dr Singh's misconduct was so serious that he is permanently or indefinitely unfit to practice."
News Source:
https://thewest.com.au/news/wa/10-year-ban-for-steroid-doctor-ng-b88515117z