MuscleMecca Crew
MuscleMecca Crew
Staff
Author
Joined

May 11, 2012
Messages

3,234
Points

63
I just read a very interesting article on getting Myositis from intramuscular oil injections. The article talks about a 32 year old amateur bodybuilder with bilateral upper-arm erythema, pain and swelling.
Here is a snippet from the article.
A 32-year-old amateur bodybuilder presented with bilateral upper-arm erythema, pain and swelling. He had previously received treatment with antibiotics for presumed unilateral cellulitis of his left arm 6 times and right arm twice over the past 5 years. He described numerous intramuscular injections of site enhancement oil, commonly known as synthol, 10 years earlier. The injections had been predominantly into his biceps, but also into his triceps and deltoids, and had produced immediate painful muscle enlargement. His left arm had a well-demarcated erythematous patch that was warm and nontender over his distal bicep (Figure 1A). Both biceps were tender, irregular and firm, with decreased elbow extension. Serologic testing for rheumatologic and infectious conditions was negative (Appendix 1, available at

www.cmaj.ca/lookup/suppl/doi:10.1503/cmaj.191500/-/DC1

).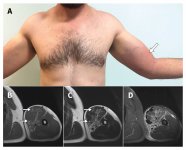 This is a peer reviewed article and very informative. Read about the dangers of using this shit.
https://www.cmaj.ca/content/192/18/E480