Joined

Apr 10, 2014
Messages

4,084
Points

63
Ofcourse it was dropped! It was bullshit! Kratom should be 100% legal always! Adults should be able to choose!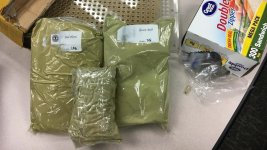 NASHVILLE, Tenn. (WZTV) — A case against a Clarksville man arrested in Nashville for selling a medicinal plant called "Kratom" is now being retired for one year.
That means the state agreed not to pursue charges against Chris Miller for a year - and could end up dropping them altogether.
Police arrested Miller after he tried to sell 5 pounds of the drug to a cop he met through Craigslist.
Kratom is commonly used by people struggling with an opioid addiction as a safer alternative.
However, Kratom is illegal in Tennessee.
After posting the story about Miller's arrest, Miller said he received an outpouring of support from Kratom advocates.
This is a developing story and will be updated.
Source:
http://fox17.com/news/local/metro-case-retired-against-clarksville-man-accused-of-selling-kratom