MuscleMecca Crew
VIP
Author
Joined

May 11, 2012
Messages

2,938
Points

48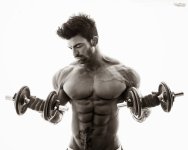 When it comes to bodybuilding and bodybuilding naturally, consistency is a vital aspect. Not only consistency with your training but your diet as well!
Consistency Builds Muscle
By Bob Tyler
Recommend Article Article Comments Print Article Share this article on Facebook Share this article on Twitter 1Share this article on Google+ Share this article on Linkedin Share this article on StumbleUpon Share this article on Delicious 1Share this article on Digg Share this article on Reddit Share this article on Pinterest
If you want to be the guy every one envies on the beach or in a suit, you need to be consistent. If you only train and eat a protein rich diet for a week or two at a time, you'll never get the ripped body you want; the one that will turn her head.
Training properly requires focus. If you lifted 100 pounds on Monday during your first work out, you need to lift 105 at the second Monday you workout. The constant increase in stimulation to your muscles is what causes them to grow consistently until you reach your goal. It's called progressive training, and it is the fastest way to grow muscle each and every week.
You must also eat a well balanced diet rich in protein (one and a half to two grams for every pound of body weight) to ensure your body has a consistent supply of the fuel it needs to support the rate of muscle growth. This means seven days a week, not just the three or four days a week that you train. The goal is consistency.
Focus on the goal of progressive consistency in your training. Focus on a protein rich diet seven days a week. Always remember that the consistency is what you need.
If you follow the advice here for at least three months, you'll see results. The longer you follow the rule of consistency, the more your muscle growth you will achieve. It takes putting in the time and effort consistently to get the kind of body that will turn her head.
Source