Joined

Apr 10, 2014
Messages

4,086
Points

63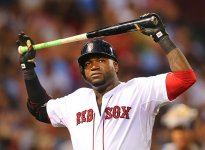 NEW YORK (CBSNewYork) — David Ortiz insisted again Monday he never used illegal performance-enhancing drugs during his 20-year baseball career.
Ortiz appeared on Mike Francesa's WFAN show to promote his new book, "Papi: My Story." Francesa asked the Red Sox great, who retired after last season, whether he ever used steroids.
"Never. That wasn't my purpose," Ortiz said. "I was a guy that I worked extremely hard to get better.
"I keep on saying to people that I got more drug testing than anybody ever has in baseball, and I never failed one."
In 2009, The New York Times reported that Ortiz was among 104 major league players who tested positive for PEDs during a test six years earlier that was supposed to remain anonymous.
"It was just a rumor on the street," Ortiz said of the supposed failed test. "Nobody ever came to me and told me, 'This is what you tested positive for.' … And you saw what the commissioner say: 'This was inconclusive.' I mean, it was their word against mine basically."
Manny Ramirez, whom Ortiz looked up to during his career, was suspended under baseball's PED policy in 2009. But Ortiz said he should not be considered guilty by association.
"Manny's last name is Ramirez. My one is Ortiz," he said. "So if Manny go out there and kill somebody, should I be guilty?"
Ortiz did admit to using legal supplements, "just like every other athlete," he said.
The cloud of uncertainty involving PED use could potentially keep Ortiz, who hit 541 career home runs, out of the Hall of Fame.
"That's something that I can't control. What I can control is what I was able to do in the field," he said. "Being in the Hall of Fame one day, it'll be an honor for me and my family and all my fans, you know what I'm saying. But that's something that I can't really control. I can't vote for myself. I did what I was supposed to do. And honestly, I tell you, I never used the steroids."
http://newyork.cbslocal.com/2017/05/15/david-ortiz-steroid-denial/