Ironslave
Mecca V.I.P.
VIP
Joined

Jul 12, 2006
Messages

4,725
Points

38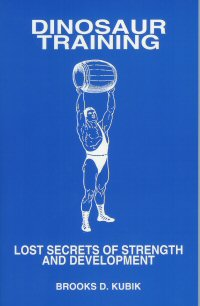 http://www.megaupload.com/?d=MZVB8P9H
Dear Friend,
One day a man who had lifted weights his entire life took a look at the world of strength training around him:
Where a gym used to be a serious place for serious people, interested in building serious strength, now it was a glorified juice bar - plenty of chrome, ferns, and pencil neck pseudo experts who wave around plastic dumbbells while making sure their designer headbands matched their suede lifting belts.
Weight training was slowly but surely being taken over by the druggers, the poseurs, the pretty boys, the pencil necks, the whiners, the pump artists and the mirror athletes... (no doubt you know the type - and all this makes you just as sick.)
This man had enough - Enough!
His name was Brooks Kubik, and what happened next started a strength training revolution.
And so it Began
...So Brooks began to write. While Brooks had authored articles in several different publications over the years (including Milo, Hard Gainer, Iron Master and Iron Man) the words that were now issuing forth on his type writer were somehow different than ever before.
He wrote about the training that had worked for him, how he trained in high school, how he trained in college, how he trained to win multiple National Championships in Bench-press Power lifting meets, how his favorite old time strongmen used to train...
He had originally planned to type out a fifty or so page booklet and possibly sell (though more likely give it away) to the few people he thought might enjoy it.
Brooks reached fifty pages after only a few short days of writing, and there was still more material he wanted to cover - a lot more.
Fifty pages turned into a hundred, a hundred pages turned into two hundred. and it didn't stop there. With the encouragement of the top people in the strength world the finished product was titled Dinosaur Training since it was about training that was all but extinct.
It involved methods for how the strongest men who had ever lived had trained - sure, with traditional weights such as barbells and, but also highly unusual implements such as sandbags, kegs, rocks, anvils, sledge hammers and more.
He went ahead and published Dinosaur Training, releasing it on an unsuspecting world...
And Then Everything Changed
It was as if the ghosts of Iron Game's past were suddenly brought back to life... and with a vengeance. All of a sudden people started attacked their training with a ferocity that hadn't been seen for many years. Calloused hands started lifting odd objects again - sand bags, kegs, rocks, anvils, anchors. Training methods such as thick handled weights, heavy partial movements and power rack work all experienced a resurgence in popularity.
Suddenly it became OK to lift heavy chunks of iron and steel again.
Revolution or Evolution?
Less than eighteen months after it appeared, the entire first printing of Dinosaur Training sold out completely. College and NFL strength coaches began reading it and incorporating these training techniques into their programs. Everyone started setting up personal gyms in their basements and garages - stocking them with plenty of "old fashioned" equipment that worked better than anything else available.
This wasn't just a local thing either; orders started flooding in from all over the globe. The strength world had come full circle... once again, people were training like they did in years past - and building strength like they did in years past.
When it came time for the second printing, Dinosaur Training became even bigger ...literally - Brooks added two additional chapters of intense training material. Today, nearly ten years after its initial release, Dinosaur Training still stands as one of the all time great strength books. You would be hard pressed to find a weight training book which has helped more people get the fire back in their belly (or get it going in the first place) when it comes to serious training.
With the treasure trove of solid training information that it contains, it is no wonder that Dinosaur Training and the Dino- Attitude has reached such great heights of popularity. Now you can read and learn from one of the best training books ever published, the book that started a Revolution.