MuscleMecca Crew
MuscleMecca Crew
VIP
Author
Joined

May 11, 2012
Messages

3,174
Points

63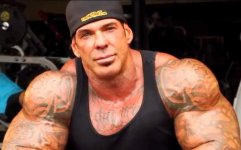 I know hardcore bodybuilding enthusiasts will do just about anything to excel in the sport but please, please, please do not inject drugs created for horses! You may end up being a dead bodybuilder.. not a successful one! You may ask why I added a picture of Rich Piana. Why not?
Read what this bodybuilder did!
Delhi Boy Injects Drug for Horses for Bodybuilding Lands in the Hospital
The arena of Bodybuilding has become highly dominated by the use of supplements to gain mass and more supplements to get more energy that can help people workout intensively. Some of the supplements are taken by youngsters highly unsupervised and in high doses, which under the pretext of giving temporary results, deteriorates the health of the person over time. Sometimes a few unprofessional trainers are to be blamed as well, because of the misleading ideas they provide the youngsters in the industry with.
In a recent incident, a famous private hospital in Delhi received a case of addiction that in a 21-year-old body-building enthusiast. The resident of Najafgarh in west Delhi, was addicted to a drug that is usually given to horses to help prevent stress on their heart because of the exertion and heavy workload they undergo. These intramuscular injections of a compound called, AMP5, helps improve the strength and also prevent the heart from being overworked. However, this compound is sometimes taken by humans too, in oral form though, to help treat erectile dysfunction and similar other conditions.
The job of AMP5 is to widen the blood vessels and increase the production of blood in both cardiac muscle and skeletal muscle to reduce the strain on the heart. According to the reports by TOI, the boy said that it was his gym trainer who suggested that he takes the injection to be able to do more intensive exercises. The drug in the real sense helped him workout better and do more intensive workout and not get tired because of that. It also helped him improve his shape. However, he kept increasing the dose from 1ml to 2,3 and then 4ml.
His good shape also helped him win awards at the bodybuilding event that he wanted to participate. However, later when he wanted to shift his focus from bodybuilding to studies, that is when the problem began. He wanted to give up the injections, which he was unable to. He began to show symptoms of depression. His parents began to complain that he slept a lot and was always irritable. He receiving his treatment now. According to reports by TOI he has been receiving antidepressants.
Bodybuilding News Source