Joined

May 20, 2007
Messages

5,504
Points

38
SHEBOYGAN, Wis. -- A woman was arrested after she left her dog outside in 6 degree weather, causing it to freeze to the sidewalk.
A neighbor called police after the dog was stuck to the pavement for more than 12 hours. Jiffy's owner, a 59-year-old woman, was taken into custody on suspicion of animal neglect.
Owner Arrested After Dog Freezes To Sidewalk
Animal care providers had to use warm water to gently pry Jiffy free from the ice. Locks of his hair are still frozen on the pavement in front of his house.
Jiffy, an 11-year-old border collie, can now crawl but is too heavy to walk. The extra 50 pounds he's carrying almost cost him his life.
"It is very disturbing to see a dog that overweight and then to actually come up and see the dog frozen to the sidewalk. It was very, very traumatic for me," said Carey Payne, who is with the Sheboygan Humane Society. "I've never seen a dog actually frozen to a sidewalk before."
The owner told police she made frequents trips outside to check on the dog, but workers at the Sheboygan County Humane Society suggest the dog was abused long before he was frozen.
"You can overfeed a dog, and when you do the dog becomes extremely overweight, it cannot move properly, it puts a strain on all of their organs," said Payne. "It's abuse. That's plain and simple."
Todd Wagner, the neighbor that called police, said the owner tried to free the dog.
"I tried to help (the owner) with it on Wednesday night, but I got bit by it so I left it alone. She had other people coming to help and everybody did make an effort, you know it's not that it was total neglect on her fault," he said.
Investigators said the owner was released shortly after she was arrested, and it will be up to the district attorney to decide what charges she will face, if any.
Aside from being overweight, the dog is in good health, according to the Humane Society.
The organization said it has received multiple calls from people who are interested in adopting Jiffy.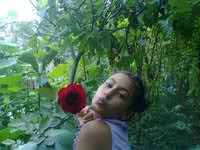 Poor Doggie