Joined

Aug 2, 2008
Messages

10,869
Points

48
I had to share this. It makes you think and appreciatte what you have.
keep strong Chris!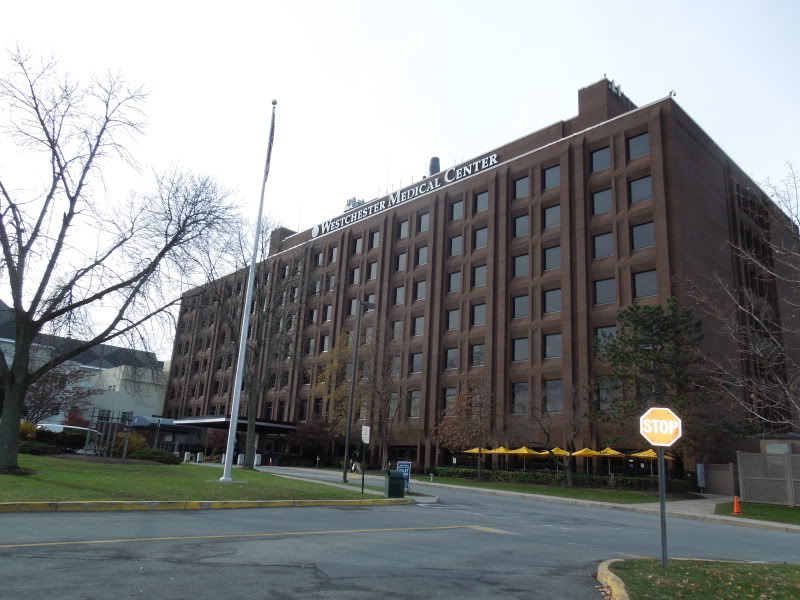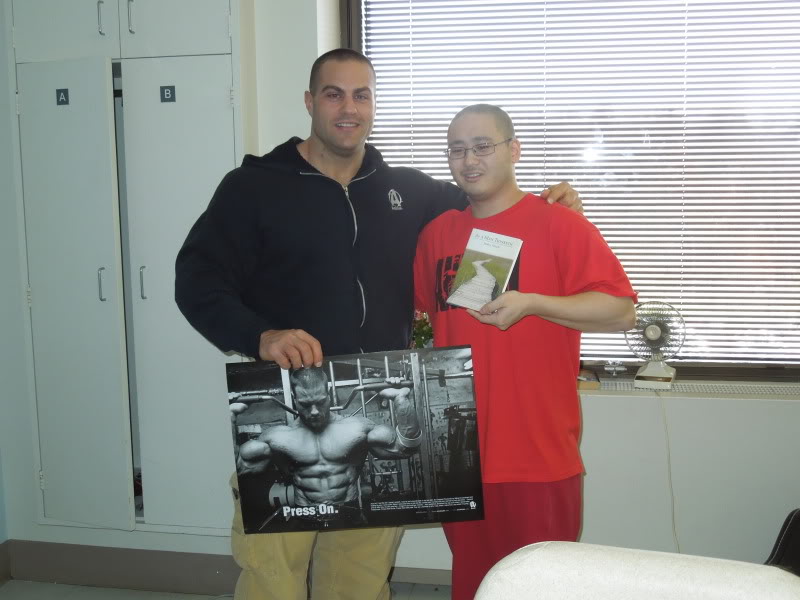 -----------------------------------
On November 14th, Animal received this email from Chris Slavin, a 22-year old aspiring bodybuilder from New Jersey, who was diagnosed with a very rare form of hear cancer earlier this year:
"My name is Chris Slavin, I am 22 years old and was recently diagnosed with heart cancer. If you haven't heard of it, don't be discouraged because the disease is so rare that it only affects .0001% of the population. I was first diagnosed with a tumor in my heart in June 2012 and had open heart surgery to remove it. In July, the biopsy came back that my tumor was malignant and that I would have to receive chemotherapy treatment using two of the strongest chemos known to man. In the middle of September I finished 3 rounds of chemo and right now I am in the stages of receiving a heart transplant because no amount of chemo or radiation would have been able to kill all the tumorous cancer in my body. Right now this is the third week I have been waiting and I am hoping that it comes soon since I have not had a treatment in awhile and each day there is a chance that it could spread. Everyday I pray and hope that even after the surgery is over the cancer will not come back because according to, New York Presbyterian Hospital, only seventeen patients throughout the world have undergone this type of heart transplantation, and tumor free survival beyond two years has thus far been seen in only 3 patients. As you can see my life has completely been flipped upside down from being a very healthy, 22 year old college student (I was natural except for taking the test boosting supplements so maybe some may say I'm not completely natural but regardless I was planning on going on the real gear last summer if all this had not happened), to a weak, little, scared kid fighting for his life. I know you probably get these kinds of stories all the time however, all I would like to ask these favors from you. First, a letter back from the real Evan Centopani and maybe even an autographed poster if you could pull some strings so I could hang on the hospital wall (if you can't don't worry about it because I understand). Second, if your ever in NY and could maybe come visit me since I know you travel a lot and do guest appearances all the time I would love to be able to meet you in person since you are one of my heroes and I am very sick and cannot travel outside the hospital. Again, I completely understand if you can't come because of your busy schedule and all but it would be awesome to meet you in person. Hopefully if I beat this thing I'll be able to see you one day at the Olympia, BB show or a bodybuilding convention or something. Lastly, Bodybuilding was my life and I loved, lived, breathed, ate, and dreamt, about getting bigger every day and would like to pursue that dream after my recovery if everything goes as planned. Thank you for taking the time and reading this message and please pass this along to Evan for me! Also good luck with everything and your shows - Your fan for life, Chris Slavin"
A few days ago, I was asked if I had free time today, November 20th. When I asked why, I was told that plans had been made to have Evan pay a surprise visit to Chris in the hospital to personally deliver some autographed posters – and would I be interested in going as well. Of course I said yes.
So we met in the lobby of the hospital, along with staff from Muscular Development (Animal reached out to them as well to ramp up the excitement for Chris). I brought along some gifts for Chris including Animal t-shirts and a gym bag. The staff at the hospital went in first to make sure Chris was up for visitors. Chris needed a few minutes to get ready but then welcomed us in, being a big fan of the Animal and Ox. In fact, Chris had on a red iconic Animal t-shirt when we walked in.
Let me tell you, Chris was blown away by meeting Ox in person. He and Ox talked for a while and I was amazed at the strength and will of this kid. Ox gave him a book that was passed on to him and personally autographed to Ox but he wanted Chris to have it. It was a very special moment. Ox also signed some Animal posters for him to hang in his hospital room. I was moved – to go through what he is going through at 22 is just amazing. He is going to come out of this stronger than ever, I know it.
Chris's spirits were brought up today through the generosity of Ox, Animal & MD. As Chris sits and waits for a heart transplant donor (it's been 6 weeks in the hospital so far), he can look at the posters that Ox signed and find some inspiration and strength. He hopes to get back to full health and can train again soon. I know he will make it.
Though MD and I couldn't stay long, do you want to know what? Ox stayed there in that hospital room for another three hours.
I think that tells you something about the kind of bodybuilder and man Ox is. I'm really glad we drove up to make a difference in Chris' life.
------------------------------------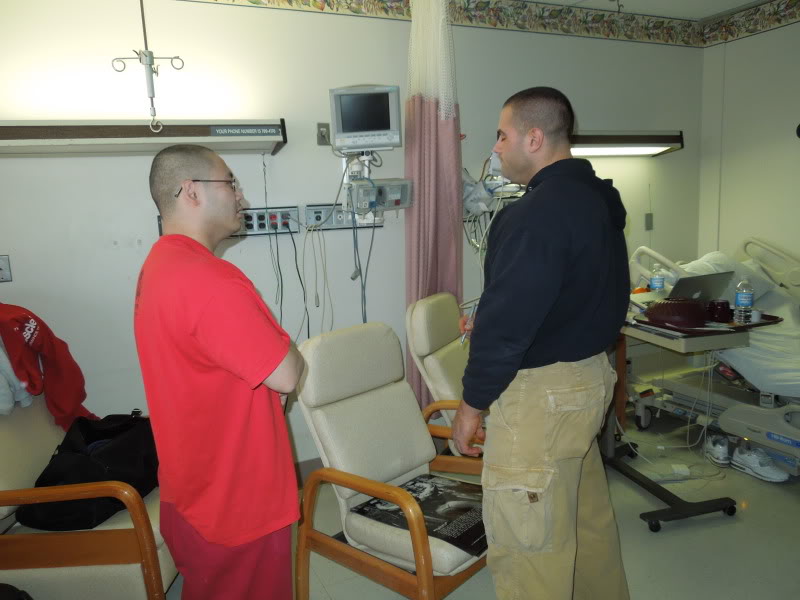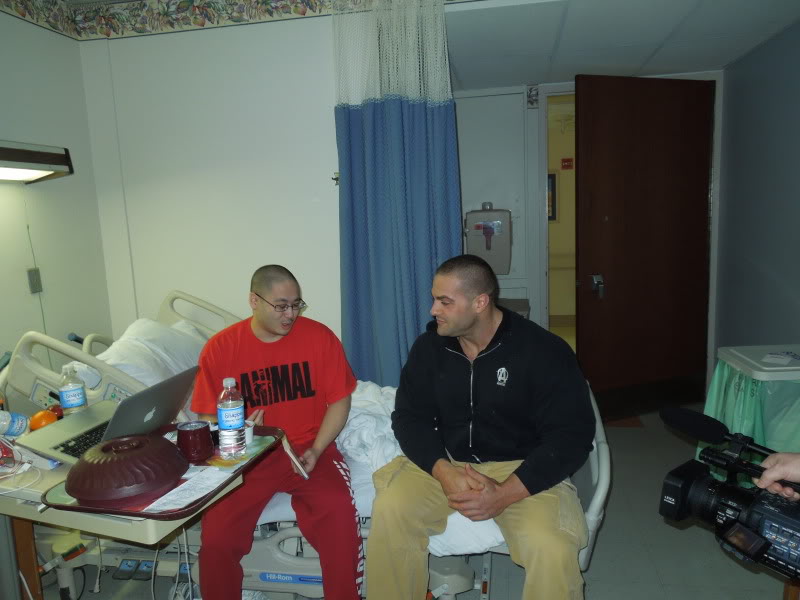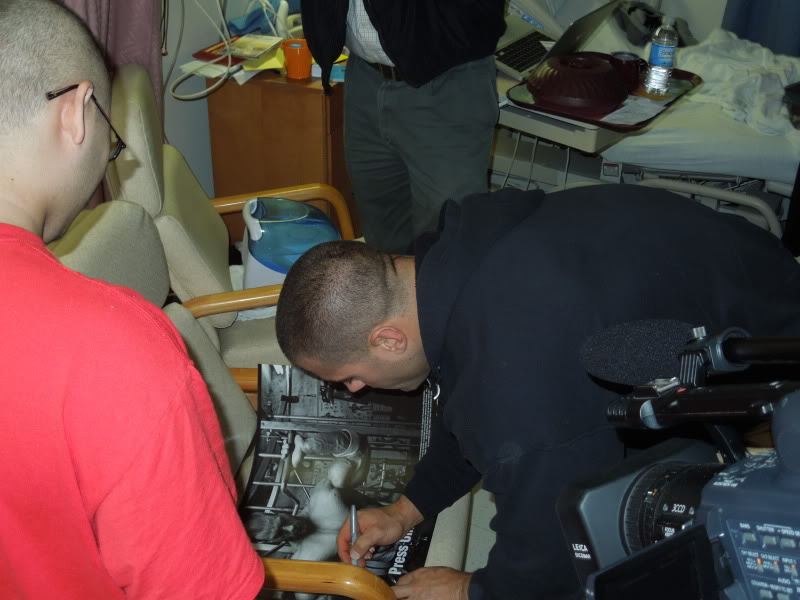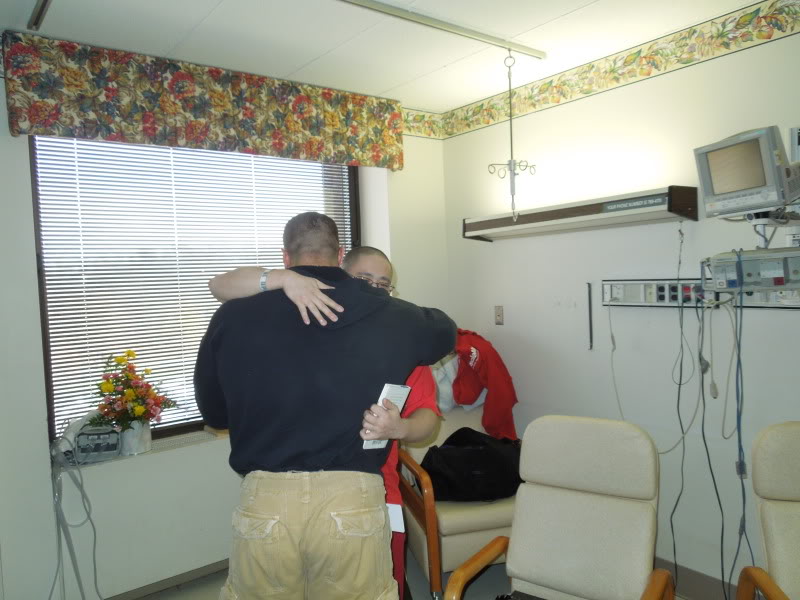 I just got home from visiting Chris. Where do you begin? The email that Chris sent to the guys at Universal was passed on to me Wednesday night. Ironically, I spent all of last Thursday going from appointment to appointment with my father who also happens to have cancer. My father had his right lung and a section of his heart removed last year because they found a neuroendocrine tumor (it's a rarely seen form of cancer). He has since been receiving chemotherapy. A few weeks ago, I met my father to watch my younger sister's volleyball game and he told me that they found that his cancer had spread to areas in his neck and chest. So the day after receiving Chris's email was spent with my father visiting his oncologist and his surgeon in Westchester and Brooklyn respectively...right near Chris who also happens to be in Westchester. In any case, what I'm trying to say is that hearing what Chris had to say really hit home in light of everything happening right now with my father.

Chris and I spent a while talking and I hope he was left having benefited as much from our conversation as I did. I don't have cancer and that makes me unable to sit next to Chris or my father or anyone else and tell them that I know how they feel or that they have to do x, y and z to make it through. In reality, I can offer things that I have learned and suggest things that have helped me but at the end of it, when I'm sitting across from someone who, at the age of 22, has already had open heart surgery, is currently awaiting a heart transplant and facing odds that are not in his favor the fact of the matter is that I'm the one who walks away inspired. When someone like Chris won't stop thanking you for taking the time to come visit him you begin to feel really ridiculous because it only makes you uncomfortably aware of the fact that you should be doing more to give back.