Joined

Jul 17, 2013
Messages

2,447
Points

0
In a new study, people with overweight or obesity who worked out before eating breakfast burned more fat and saw overall health benefits.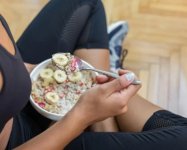 Figuring out when to exercise could be just as important as the exercise itself, according to new research on the relationship between meal times and workouts.
Some studiesTrusted Source suggest that the effectiveness of exercise may be tied to when a person eats.
However, it is rarely possible to translate findings from studies in lean people to those with obesity.
So, scientists from the Universities of Bath and Birmingham, both in the United Kingdom, set out to see if meal and exercise timing had a similar link in people with overweight or obesity.
Having obesity and living a relatively sedentary life can lead to an increased risk of cardiovascular disease.
This is because insulin sensitivity is reduced, and hyperinsulinemia — a condition characterized by excess insulin levels — is increased.
Click here to view the full bodybuilding news article.
Last edited by a moderator: