Joined

May 20, 2007
Messages

5,504
Points

38
An FDA analysis found that the undeclared active pharmaceutical ingredients in some of these products include sibutramine (a controlled substance), rimonabant (a drug not approved for marketing in the United States), phenytoin (an anti-seizure medication), and phenolphthalein (a solution used in chemical experiments and a suspected cancer causing agent). Some of the amounts of active pharmaceutical ingredients far exceeded the FDA-recommended levels, putting consumers' health at risk.

These weight loss products, some of which are marketed as ?dietary supplements,? are promoted and sold on various Web sites and in some retail stores. Some of the products claim to be ?natural? or to contain only ?herbal? ingredients, but actually contain potentially harmful ingredients not listed on the product labels or in promotional advertisements. These products have not been approved by the FDA, are illegal and may be potentially harmful to unsuspecting consumers.

The FDA advises consumers who have used any of these products to stop taking them and consult their healthcare professional immediately. The FDA encourages consumers to seek guidance from a healthcare professional before purchasing weight loss products.

?These tainted weight loss products pose a great risk to public health because they contain undeclared ingredients and, in some cases, contain prescription drugs in amounts that greatly exceed their maximum recommended dosages,? said Janet Woodcock, M.D., director, Center for Drug Evaluation and Research, FDA. ?Consumers have no way of knowing that these products contain powerful drugs that could cause serious health consequences. Therefore FDA is taking this action to protect the health of the American public.?

The FDA has inspected a number of companies associated with the sale of these illegal products, and is currently seeking product recalls. Based on the FDA?s inspections and the companies? inadequate responses to recall requests, the FDA may take additional enforcement steps, such as issuing warning letters or initiating seizures, injunctions, or criminal charges.

The health risks posed by these products can be serious; for example, sibutramine, which was found in many of the products, can cause high blood pressure, seizures, tachycardia, palpitations, heart attack or stroke. This drug can also interact with other medications that patients may be taking and increase their risk of adverse drug events. The safety of sibutramine has also not been established in pregnant and lactating women, or in children younger than 16 years of age.

Rimonabant, another ingredient found in these products, was evaluated, but not approved by the FDA for marketing in the United States. The drug, which is approved in Europe, has been associated with increased risk of depression and suicidal thoughts and has been linked to five deaths and 720 adverse reactions in Europe over the last two years.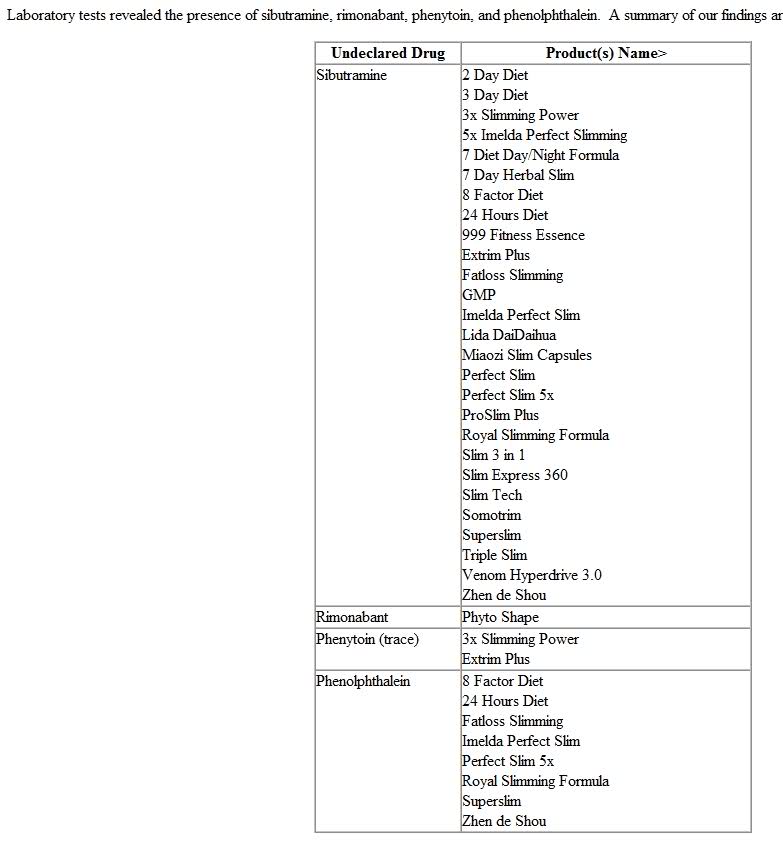 http://www.fda.gov/bbs/topics/NEWS/2008/NEW01933.html