Joined

Apr 10, 2014
Messages

4,041
Points

63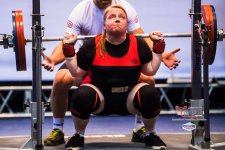 Langley resident Bonney Rempel, 50, won a silver medal at the World Classic Powerlifting Competition in Minsk, Belarus. Adam Palmer/9for9 Media
Silver lining for Langley powerlifter at world championship event
Fifty-year-old Bonney Rempel takes silver in Minsk, Belarus!
By Troy Landreville
Bonney Rempel doesn't mind the heavy lifting.
The 50-year-old Langley resident proved that last month in Minsk, Belarus, where she captured a silver medal at the World Classic Powerlifting Championships.
The biggest IPF (International Powerlifting Federation) event of the year attracted more than 900 lifters, 64 international referees, and 410 coaches and officials from 30-plus nations.
Part of the Canadian team, Masters II (50-59) category, Rempel was among the 50-plus members who travelled to Belarus to compete. This was Rempel's second world competition and she finished in a high pressured battle against her U.S. opponent for the podium placement, coming down to the very last deadlift.
"I felt strong but I messed up on my squats," Rempel said. "That took us down to the final lift. I missed the gold by one pound. I had pushed probably 3,000 pounds that day, so to miss by one pound wasn't the ideal outcome. But what an experience — it absolutely was."
Lifts in the 84-plus kg weight category:
Gold medal in squat (368.6 pounds).
Silver medal in bench press (242 pounds) — set six B.C. powerlifting records in Open, Masters I and Masters II age categories, four Canadian records in Masters I and II, and one world record in Masters II.
Bronze medal (385 pounds) in deadlift — set two B.C. records in Masters I & Masters II
Overall silver medal podium finish with 995.5 total pounds lifted.
Rempel made huge strides at the 2017 competition compared to last year, when she placed fifth at the world championships in Texas.
Rempel is not sponsored so she shouldered all the costs, including travel and accommodations, in order to compete.
She said that during the event, she turned 50 "so that was a good feeling."
"My dad comes from Russia so I turned 50 on Father's Day," Rempel said. "I went in wanting to do the best that I could possibly do, and that's what happened."
"My husband Brad travelled with me and cheered the loudest amongst the crowds of supporters," Rempel added. "Definitely a trip of a lifetime! After Minsk we travelled to St Petersburg and Moscow."
Athlete of the Year
Originally from Penticton/Okanagan Falls, Rempel was recently awarded as Female Athlete of the Year by the BC Powerlifting Association.
For the past few years, Rempel has trained out of Pro Trainers Gym in Langley under coach Mitch Walls, to whom she credits for all her success.
Walls has trained several world champions in the past, competing in both bodybuilding and powerlifting himself. Rempel is a member of both the BC Powerlifting Association (of which she sits on the Board) and the Canadian Powerlifting Union.
Rempel has worked with Walls since her first competition in 2013, where she lifted a total amount of 682 pounds.
"Four years later I am lifting 995 pounds," Rempel said.
About powerlifting
Powerlifting is often confused with Olympic lifting.
It is an individualized sport in which competitors attempt to lift as much weight as possible for one repetition each in the squat, bench press, and deadlift. Each lifter is classified by variables including gender, weight class and age group. Every lifter is allowed three attempts at each lift, making for a total of nine competition lifts throughout the day.
A lifter's total is determined by the sum of his/her best lifts, and the individual with the highest total is considered the all-around strongest lifter in his/her division.
All athletes are subject to drug testing both in and out of contest. Doping testing is carried out by the Canadian Center for Ethics in Sport (CCES) in accordance with World Anti Doping Agency (WADA) guidelines – also used by the International Olympic Committee (IOC).
Mandate
The British Columbia Powerlifting Association (BCPA) mandate: to promote, control and develop Powerlifting throughout the province of British Columbia; to honour individuals in the form of special awards for exceptional achievement in powerlifting; and to educate the public as to the importance of better health and fitness through powerlifting.
The BCPA is a non-profit organization which serves as the official B.C. provincial body of the Canadian Powerlifting Union (CPU). Both organizations operate under the rules and regulations of the International Powerlifting Federation (IPF).
The BCPA also provides the platform for BC Special Olympics, Paralympic Athletes and also athletes competing in the International Blind Sports Federation.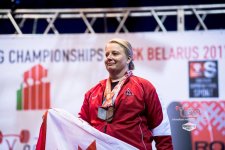 Langley powerlifter Bonney Rempel proudly held a Canadian flag after her podium finished at a world championship event in Belarus last month. Adam Palmer/9for9 Media
Bodybuilding News Source:
http://www.langleytimes.com/sports/...gley-powerlifter-at-world-championship-event/