Joe Pietaro Contributer
VIP
Author
Joined

May 30, 2014
Messages

1,134
Points

63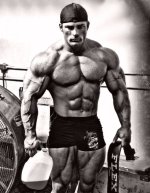 James
"Flex"
Lewis has proven himself and then some in the 212 category. He has won six consecutive 212 Olympia Showdowns and is going for another next month, where he is the clear favorite. Lewis has already announced that this will be his last 212 competition and his longtime coach Neil Hill followed that up by stating the native of Wales was not in fact retiring, but taking a year or so off to get himself in position to enter the open bodybuilding division.
It was only four or so years ago that Lewis publicly contemplated making the switch, but was 'convinced' to stay put in the lighter category. At the time, the 212 was only a few years old and even more recently altered from its original incarnation as the 202. So to have a big name like Lewis establishing himself and the category was beneficial to all involved.
But there have been a number of competitors enter the 212 who have become big names and fan favorites themselves, such as Jose Raymond, Ahmad Ashkanani, Guy Cisternino and Derek Lunsford. David Henry, a former 202 champion, has had a resurgence and may be Lewis's biggest threat at the O.
So when Lewis made this decision, it wasn't as impactful as it would have been back in 2014; the 212 will be just fine with the crop of bodybuilders currently in it. When push comes to shove, it's actually been more exciting that the open has been.
Lewis has always stated that he is at his best when in the 230-pound range and loses some quality size to make weight. So give him 18 months and picture what he will be bring to the table with no restrictions. He has always maintained an aesthetic look and should continue to do so, as he has already seen himself at his best without an extended midsection.
Put him up against Heath or any other open competitor right now and he can win. Add nearly 20 quality pounds and he's a sure thing.
Last edited by a moderator: