Joined

Apr 10, 2014
Messages

4,206
Points

83
Former Newcastle Knights star Jarrod Mullen is living with shame after receiving a four-year ban for testing positive to anabolic steroids.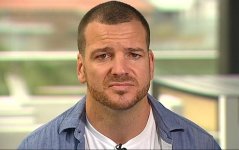 onight he breaks his silence, in an exclusive to air on Seven News.
He says he takes full responsibility for what happened, but insists he's not a drug cheat.
Mullen wants others to learn from what he describes as his one grave error of judgement.
"I just want to say I take full responsibility for what happened - I'm not here to blame anyone else."
"If someone is saying to you 'I'm going to inject you with a steroid', as a professional athlete you're going to say no - no way in the world. It stays in your system for six to 12 months and I get tested every second week."
Battling hamstring injuries, Mullen sought treatment from a physio outside Newcastle Knights.
"I trusted the bloke, I'd known him for 10 years - he tossed up an amino acid injection to help with the healing."
"After the injection I tore my hamstring two weeks later, so whatever was supposed to go in there didn't work anyway."
"When I did the interview with ASADA they knew it was an accident because you need to be taking five other different things for it to actually do anything."
"If I was intentionally going out there to improve myself to get bigger, faster, stronger I'm happy to cop the four years"
"It's just ruined my life."