underbody
Mecca V.I.P.
VIP
Joined

Sep 9, 2006
Messages

21,957
Points

113
Please donate to this body builder, Kris Dim. He needs our help.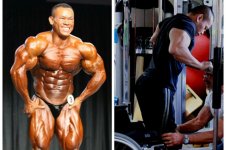 Hello everyone, my name is Kris Dim. For over 20 years I spent my life in the world of bodybuilding, receiving the title of IFBB Pro in 2003. Along with the title came the ability to inspire others and act as a role model for the younger generation. My life was in the gym, until it was all taken away from me.

It has been 3 1/2 years since I went in for heart surgery (aorta replacement) and woke up with a T-11 spinal cord injury. During the surgery my spinal cord was sufficated, causing severe and irreversible damage. I was left without function from the waist down. Not only did I lose the ability to walk, I also lost my independence, career, and the future I had always wanted for myself.

I have since then come to accept that my life will never be the same. I am now independent, getting my career back, and doing aggressive Exercise Therapy 3 times per week. My life can only go up from here.

Which is where your help comes in. I had always refused assistance from friends and family due to a stubborn Ego. Coming this far on my own was a great accomplishment, but I know now that in order to reach the goals I have set for myself, I need help.

I was recently introduced to 2 devices that I believe will impact my life tremendously. One being the Tek-RMD, a robotic standing device that would allow me to be mobile while upright. Not only would this assist in my ability to be 100% independent and train my clients more efficiently, I would also be receiving the benefits of standing and load bearing for a greater portion of my day. Anything to get me standing and out of my chair while working will help me avoid pressure sores and a severe decrease in bone density. This device alone costs $20,000.

The second device is the ReWalk exoskeleton. The ReWalk 6.0 home unit would allow me to walk, unassisted. The physical benefits of this device include maintaining bone density, increased circulation through my lower body, along with the many benefits of a gait training program. The psychological and emotional benefits of being able to walk are immeasurable. This device costs $77,000.

The remainder of the $145,000 will go towards the training that will be needed to efficiently use the devices at home, along with the continuation of exercise therapy (at SCI-FIT Sacramento) that has helped me tremendously during my recovery. I know this will be a long process, but the sooner I will be able to start using these devices, the better!

Thank you so much for reading about my story and for helping me get back on my feet.
https://www.gofundme.com/krisdim
Last edited by a moderator: