Joined

Apr 10, 2014
Messages

4,191
Points

83
Breaking Bodybuilding News from the IFBB
CHANGES IN THE ELITE RANKING, AFTER 1st. BEN WEIDER LEGACY CUP ARUBA


With the recent Ben Weider Legacy Cup (BWLCA) celebrated in Aruba, last weekend 4th & 5th August; the 2017 IFBB Elite Ranking received several changes in their top positions. The event gave 7 points to all the winners in every category and the Top 5 athletes qualified received, as well, others valued points.
The most important updating went to Bodyfitness, where the winner, Wendy Granados (Venezuela) became in the new leader with her 14 points, as the results of her victories in Aruba and Medellin (Olimpia Amateur South America).
With the new Elite Ranking already updated and available in the website, these are the main changes, at the Top 10, in every Division.
IFBB Elite World Ranking
▪ BODYBUILDING:
There are not important changes, with the same leaders –Andrea Muzi (Italy) and Marcos Pereira (Portugal)- and with up to 17 athletes tied with the same 9 points, in the 3rd. place. The BWLCA overall champion, Jamail Hamilton, raised up to 21st. place, with 7 points.
▪ CLASSIC BODYBUILDING:
With Aristide Mbomni (Germany) as a solid leader with his 16 points, BWLCA overall champion, Gabriel Muñoz (Aruba) reached the Top 3, with his 10 points, in 3rd. place; behind Sergio de Juan (Spain; 2nd. place) and overtaking a group of 10 competitors with 9 points, in the 4th. place.
▪ MEN´S PHYSIQUE:
Same as in Bodybuilding, not important changes with Luca Biolo (Italy) leading the ranking with 14 points, followed by the same competitors completing the Top 13. Winners in BWLCA, represented by Hafid James (Grenada) as overall champion and Deyvis Garcés (Venezuela) as Muscular champion, raised up to 14st. place with the same 7 points than other 21 athletes.
▪ BIKINI:
Without changes in the top 3 leaded by Natalia Lugovskikh (Russia) and Oksana Brygidyr (Ukraine) with 16 points; BWLCA overall winner Mónica Sanchez (Aruba) raised up to 4th place, with the same 11 points than Maya Leonenko (Russia) and Vjosa Rrahmani (Kosovo).
BODYFITNESS:
The biggest change in the Elite Ranking came in this category after the victory of Wendy Granados (Venezuela). The aesthetic athlete added other 7 points to her score -she already won Tall Class, in Olympia South America- reaching a total of 14 points, enough to lead the ranking overtaken former leaders Antonia Pesevski (Sweden), Jenny Söderstrom (Sweden) and Laura Brorson (Denmark), currently in 2nd. place, with 12 points each one.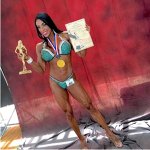 Wendy Granados (Venezuela), new leader in Bodyfitness Elite Ranking.