MuscleMecca Crew
MuscleMecca Crew
VIP
Author
Joined

May 11, 2012
Messages

3,098
Points

63
Nice they are inspecting the venues but how did it go?
IFBB treasurer inspects World Championship venues in Biarritz and Benidorm
By Dan Palmer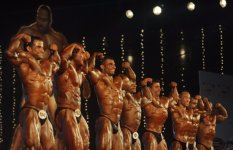 International Federation of Bodybuilding and Fitness (IFBB) treasurer José Ramos has visited Biarritz and Benidorm to inspect preparations for two World Championships.
He first made the journey to Biarritz in France, which will host the IFBB World Fitness Championships between December 1 and 4 this year.
The competition will be held in the Municipal Casino with the French Bodybuilding and Fitness Association serving as event organizers.
After Biarritz, Ramos visited Spanish holiday resort Benidorm which will host the 71st edition of the IFBB World Championships between November 2 and 6.
The IFBB will also hold their Annual Congress alongside the flagship event.
Both the Championships and the Congress will take place at Benidorm Palace.
Ramos visited venues and hotels on his visits to Biarritz and Benidorm.
The IFBB will continue to work with the governing bodies in France and Spain in the lead-up to both events.