Joined

Apr 10, 2014
Messages

4,202
Points

83
I call bullshit. Almost all of these guys in professional steroids need a little boost. What do you think?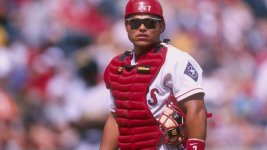 Ivan Rodriguez says there's a reason they call him Pudge, stocky and strong via hard work in the gym during his Texas Rangers career, not performance-enhancing drugs
Pudge again says he never used steroids
BY JEFF WILSON
jwilson@star-telegram.com
JULY 28, 2017 9:46 AM
COOPERSTOWN, N.Y.
With all the questions that will be fired toward Ivan Rodriguez this weekend by media from around the country, on Friday morning he addressed the one uncomfortable issue that has dogged him for years.
Performance-enhancing drugs.
"I never took it," he said. "Never."
The topic was broached in his new book, "They Call Me Pudge," which hits bookstores Tuesday. Excerpts have made the rounds, and the issue of performance-enhancing drugs is addressed in the first chapter.
It's bound to come up Saturday when he faces a larger pool of media rather than a quaint sessions with writers who cover the Texas Rangers, as was the case Friday.
Rodriguez credited intense workouts, which during the season started in the morning before night games, and the natural development that comes with a 19-year-old rookie maturing into his prime years for the reasons behind the muscle he put on during his career.
"When you are strong mentally and physically and go out and play hard, that's what you do, you have great years," he said. "That's what I say and I still say it: My conditioning was always there, every time. That's one of the things a lot of people don't see, my workouts in the morning, nine o'clock, a lot of people still in bed and I am out there running, getting ready for 7:05. That's what you get. You get here and be a Hall of Famer.
"That's just the way it is. There was a reason they called me 'Pudge,' stocky, strong. I had that as a little kid."
Jeff Wilson: 817-390-7760, @JeffWilson_FWST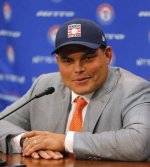 Ivan "Pudge" Rodriguez said that workouts through his career were behind him adding muscle, not performance-enhancing drugs. Rodger Mallison
rmallison@star-telegram.com
News Source:
http://www.star-telegram.com/sports/mlb/texas-rangers/article164143457.html
​