tkD
Administrator
Staff
VIP
Member
Joined

Mar 7, 2008
Messages

21,421
Points

113
booy what a season..actually the last race in Brazil (Interlagos) was insanely crazy, the title being disputed in the last 2 corners!! amazing but in the same time pure luck for Lewis. Congrats for being the youngest driver (23 years old) in the F1 history to win the title

McLaren's Lewis Hamilton is the 30th - and youngest-ever - world champion. Lady Luck was on his side after title rival Felipe Massa dominated at Interlagos. The Brazilian crossed the line first after a pluperfect performance - and seemed to have achieved the impossible - as Hamilton trailed in sixth.

Rain in the closing stages had prompted the first five - Massa, Renault's Fernando Alonso, Ferrari's Kimi Raikkonen, Hamilton and Toro Rosso's Sebastian Vettel - to pit for wet tyres. Crucially, Timo Glock, running sixth for Toyota, did not.

Massa, Alonso and Raikkonen resumed in first to third places, but Hamilton and Vettel fell behind Glock. That was still good enough for Hamilton. But then, under pressure on the 70th lap, he made a crucial mistake and slid wide. It was all Vettel needed and the Toro Rosso driver pushed through to snatch away the fifth place that Hamilton needed to become champion.

Even as Massa crossed the line, Hamilton was only sixth and the Brazilian was the champion. But as Vettel and Hamilton slammed out of the final corner, Glock's Toyota was slowing in front of them, the German struggling for grip on his increasingly unsuitable rubber. From the jaws of defeat, the British driver snatched back the crown in one of the most dramatic title deciders in history. No Hollywood script could have been more exciting.

Rain at the start had added to the drama, and saw Red Bull's David Coulthard make an undignified exit from his last Grand Prix after he was tapped into a spin by Williams' Nico Rosberg, which then involved Rosberg's team mate Kazuki Nakajima. Coulthard was out on the spot, while Renault's Nelson Piquet went off in Turn Three and was also out.

Massa controlled things throughout, with Toyota's Jarno Trulli soon falling back from an initially strong second-place run as everyone began changing from wet to dry-weather tyres after seven laps. Vettel, running a different fuel strategy to the other leaders, was always a threat, running second ahead of Alonso and pressuring Massa several times before stopping earlier for fuel. Raikkonen ran some way behind this trio, but closed in rapidly on Alonso in the final stages and was close to him as Massa crossed the line 13.2s ahead.

Hamilton took few chances, was always around fourth or fifth, and looked easily on target until that dramatic battle at the end. Glock finished sixth, limping across the line well ahead of McLaren's Heikki Kovalainen, and Trulli, the final points scorers.

Mark Webber brought his Red Bull home ninth, ahead of the BMW Saubers of Nick Heidfeld and Robert Kubica, the team thus failing to score for the first time in 2008. Rosberg was 12th ahead of Honda's Jenson Button, Toro Rosso's Sebastien Bourdais (whose chances of points were ruined after a clash with Trulli in Turn One), Honda's Rubens Barrichello, Force India's Adrian Sutil, Nakajima and Giancarlo Fisichella. The Italian Force India driver was the first to stop for dry tyres on Lap Two, and ran as high as fifth before the inevitable decline as faster machinery hit its stride.

After those gripping final laps there was almost disbelief at McLaren as Hamilton scraped home, but Massa had that covered as he graciously conceded defeat.

"We need to congratulate Lewis," he said. "He did a great championship, and he scored more points than us, so deserves to be champion."

Ferrari's consolation was to win the constructors' world championship but, ultimately, and in the most dramatic circumstances imaginable, this was Lewis Hamilton's and McLaren's day.
the last 2 laps
some tribute vids for Hamilton:
training (Reebok commercial)
his earlier races in carting
fan made clip
and a pic with his beautiful gf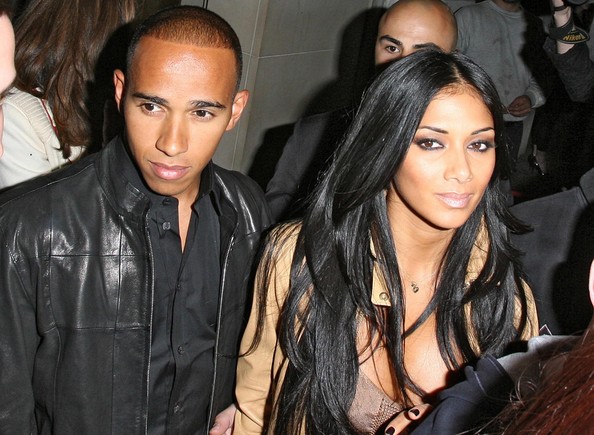 Last edited by a moderator: