Joined

Apr 10, 2014
Messages

4,204
Points

83
Well mm, I had high hopes for Manny Pacquiao but it looks like he got his ass handed to him. Ofcourse either way he just earned millions of dollars. Some people say he was robbed. What do you think?
July 2 2017 - 7:25PM
Jeff Horn v Manny Pacquiao: Sun shines on Horn as he stuns Pacquiao - and the boxing world
Jeff Horn takes an upset victory over 11-time world champion Manny Pacquiao.
Jeff Horn, an ex-schoolteacher from suburban Brisbane, just gave Australian sport one of its greatest moments.
In the middle of Suncorp Stadium, Horn won the WBO welterweight title against a legend of the sport, Manny Pacquiao. After starting as the rankest of underdogs, Horn announced himself onto the grand stage in the best possible way.
In a relentless slugfest against Pacquiao, Horn won a unanimous decision 117-111, 115-113, 115-113. The unthinkable became the reality. At 29, unheralded, unrated and flat-out laughed out by American pundits, Horn stunned the boxing world.
Related Articles
Barely anyone outside of his camp gave him any chance. Pacquiao's trainer, Freddie Roach, said it would be over in three. Instead, Horn came out into the brilliant Brisbane sunshine full of running, pressing forward from the opening bell.
He had to survive a savage Pacquiao counterattack in the ninth round and needed the bell badly. It looked as if his afternoon would be over but he somehow stayed upright and made it to his chair.
When he returned, it was clear that was Pacquiao's final flurry. At 38, it was exactly the fight he didn't want. Horn roughed him up all afternoon, using his bigger size to throw the smaller fighter around the ring and bully him on the ropes.
His lead right hand would be an effective weapon. It's a punch a younger Pacquiao would have avoided with far greater ease. Horn was hungry, aggressive and busier for much of the fight, even if Pacquiao landed some of the cleaner shots.
After the fight, Horn thanked the crowd and announced another bit of good news; he and wife Jo are having their first baby. On Sunday though, a star was born in the middle of the ring.
"It's the crowd behind me, all the support," Horn said, before calling out Floyd Mayweather for fun.
Both men were covered in blood, Horn from a cut above his left eye, Pacquiao from cuts to the head from repeated clashes. With Horn charging forward all day, he ducked down and it was almost inevitable one of them would be opened.
He said he would not retire and instead take up the option of a rematch later in the year, potentially under a covered stadium in Melbourne.
"Very tough. That's the decision of the judges," Pacquiao said.
Horn will party with friends, family and supporters on Sunday night before returning to his modest home in Brisbane's south. When he left there last, he was a challenger deemed out of his depth and out of his mind.
He returns a champion of the world.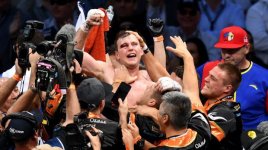 Source:
http://www.smh.com.au/sport/boxing/...ao--and-the-boxing-world-20170702-gx2vxu.html


Furious boxing fans slam judges after Manny Pacquiao 'robbed' by shock loss
Manny Pacquiao's best days are certainly behind him. That much was abundantly clear during his WBO Welterweight title fight against Jeff Horn on Saturday. But he should've been good enough to walk away with the victory anyway. But he didn't; Horn, who came into the fight the +450 underdog, claimed a controversial victory that set the boxing world alight.
Former Heavyweight Champ Lennox Lewis was among the first to speak out:
Wow! PAC loses by UD? One judge had it 117-111? ? Wasn't the fight that I saw!


This is what's wrong with boxing. Horn was very game but I'm hard pressed to see how he could have won that fight by any stretch!
Source:
http://ftw.usatoday.com/2017/07/manny-pacquiao-jeff-horn-fight-highlights-reaction-loss-judges
Punch Stats Manny Pacquiao vs Jeff Horn