Administrator
Staff member
Staff
Member
Joined

May 27, 2010
Messages

5,269
Points

83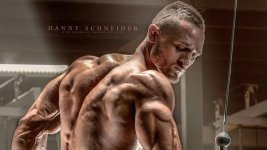 Senior Constable Danny Schneider had a career paved out ahead of him that most could only dream of, playing professional rugby league for Penrith Panthers, until a sickening blow to the head left his future up in the air.
The shock injury during a rugby game forced the fitness fanatic to seek out a new career path, prompting an application to the police academy.
Eager to rehabilitate his body, the Fairfield based cop found a new love in bodybuilding and on the back of his mate's advice he entered and won his first competitive competition.
With his future health in mind and a new budding passion, Schneider told News Corp he turned his back on his rugby dreams to focus on a new life in police work and competitive bodybuilding.
A head injury forced Senior Constable Danny Schneider to abandon his rugby career goals. Source: Facebook
It wasn't all smooth sailing from there though, Schneider was slapped with a two-year ban after an over-the-counter pre workout supplement tested positive methylhexaneamine, a substance prohibited by the Australasian Natural Bodybuilding
However the shredded senior constable said he was determined to stick with bodybuilding despite the ban and a niggling shoulder injury.
He recommenced his intense training and diet and somehow managed to defy all odds, winning both state and national body building titles and being dubbed 'Mr Australia' in 2016.
"On the 8th of October this year (2016) I fulfilled a massive goal of mine that I have dreamed about since a teenager and won the title of ANB Overall Mr Australia," he wrote on Facebook after his comeback from injury.
In 2016 Senior Constable Danny Schneider claimed the Australasian Natural Bodybuilding tournament and was dubbed 'Mr Australia'. Source: Facebook
"I'm fairly motivated and have competed in several competitions now so I've worked how to make my body however I want," he told News Corp.
"I actually really enjoy the strictness of the diet, until the last week before competition, that's not very fun."
Source: Yahoo News