Joe Pietaro Contributer
VIP
Author
Joined

May 30, 2014
Messages

1,113
Points

48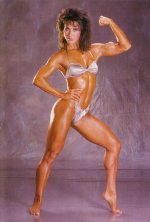 A (not so) bold prediction once you read on: The Ms. Olympia will return to the big stage in 2020.
"OK, so what the fuck would that happen?" Surely, there are some of you saying that to yourselves and rightfully so, mind you. The IFBB (whichever one you think - the Manion faction and the Santoja faction) has kicked the muscle chicks to the curb more than once and 2013 and 2014, respectively, were the nails in the proverbial coffin when the Arnold Classic then the Olympia dropped female bodybuilding.
If not for Jake Wood and Wings of Strength, the category would have been completely gone. But he breathed life back into it and even made his annual Rising Phoenix show the defacto 'Ms. Olympia,' if you will. A full series of Wings of Strength shows throughout the year led up to the championship in September and it is held the week before the O. The niche within the niche at least had a home and people who cared about it promoting it with quality shows that were worldwide, as well.
But then something occurred recently that made it great for fodder and hope for what has become anything but bodybuilding (for men and women) shows the past few years; men's physique and bikini are extending even local amateur shows for hours on end and besides the promoters being giddy over that, the competitors and audience go through a marathon day (or two) for their fleeting short moment on the stage.
American Media, Inc. has been the sole owner of Olympia Weekend since CEO David Pecker bought out the Weider family and he has not had a great stretch of time financially. AMI just sold off their golden goose The National Enquirer for a bargain and bodybuilding and its failing magazine titles cannot be something sustaining this billion dollar corporation. So they are ripe for accepting certain requests/demands from potential sponsors flashing big money at them.
Wood is a wealthy and smart businessman and obviously has something up his sleeve when WOS came on board as what has been billed as the "presenting sponsor" of the Olympia. Basically, they are the title or main sponsor and their logo is proudly displayed thereat. So what should we expect?
"There will be something at the expo this year," one of our sources who requested anonymity informed us, "but Janke is working on it (bringing back the Ms. Olympia). He has to prove to Pecker that the women are worth the return."
Money talks, so expect to see female bodybuilding once again become a big part of Olympia Weekend.
Last edited by a moderator: