TalkAdmin
Administrator
Staff member
Staff
Member
Joined

May 27, 2010
Messages

5,485
Points

113
Hey guys,
Joe Pietaro has helped us out for years by writing articles and helping promote this site. He has been a buddy of mine as well. He has such an amazing bodybuilding magazine. Joe always takes a no bullshit approach to everything and it is part of the reason I have always liked him so much. His magazine is the same way. Do yourself a favor and check it out and subscribe if you can. It is not expensive at all and the content is second to none. He also has a great YouTube channel! Find the link below.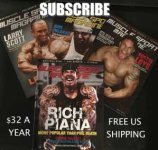 Subscribe here:
https://www.musclesportmag.com/subscribe
MuscleSportMag:
https://www.musclesportmag.com/
MuscleSport TV:
https://www.youtube.com/channel/UC6par5Uzb8dPVCdR6iRTcKg
Follow on FB:
https://www.facebook.com/MuscleSport-Mag-118841555951/
Follow on Twitter:
https://twitter.com/MuscleSportMag
Instagram:
https://www.instagram.com/musclesportmag/
Joe does it all! He has great content all over. His website is filled with excellent articles, hes got great stuff on YouTube and IG as well. The magazine though is awesome. I always look forward to getting that large manilla envelope! $32 a year! Do it! You are stuck at home now!