Joined

Apr 10, 2014
Messages

4,206
Points

83
##UPDATE - We cannot verify the following story is true. We cannot verify if religion did play a part or if the story was propaganda to make a specific religion look bad.
---------------------------
The following news story just re-enforces my views that religion is a scourge upon society, especially extremist views that are from the stone ages. I hope the killers are locked up for life. Fucking idiots. Let's get justice for Naveed Pathan!
Social media users say the victim (pictured left) was Naveed Pathan, a bodybuilder. PHOTO: Twitter
Brutal lynching in India: Muslim bodybuilder killed over faith or gang rivalry?
A disturbing video of an Indian Muslim man being brutally lynched by 11 people armed with swords and sticks in Maharashtra state has gone viral on social media and prompted a debate on the victim's identity.
According to reports in Indian media, the victim, whom police identified as Rafiquddin, allegedly a gangster, was having tea at a roadside stall in Dhule, around 280 km from Mumbai, when he was attacked.
Gruesome CCTV footage shows a group of about 11 men pulling Rafiquddin onto the street in public view and striking him with swords and sticks. They continue to hit him even as he lies unconscious and accumulated rainwater around him turns red with blood.
Rafiquddin was struck 27 times with swords before the attackers escaped on motorcycles and scooters. Police claimed that he was a criminal out on bail, who had more than 30 cases of extortion, rape and murder against him, and that the murder was possibly a result of gang rivalry.
However, several social media posts have emerged in the aftermath of the murder which refute the Indian media and police's claim that the victim was a criminal.
Social media users identify him as Naveed Pathan, a bodybuilder, who had participated in many contests.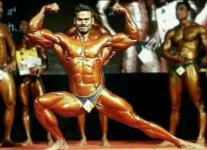 Naveed Pathan. PHOTO: Facebook
Zain Khan, a Dubai-based broadcast journalist, tweeted that Hindu extremists had targeted Pathan.
A Facebook page called "We want justice for Naveed Pathan' also termed the murder a religion-based attack, while a Pakistani bodybuilder also posted a video against this barbaric incident.
https://www.facebook.com/100010951146810/videos/467148050326896/
News Source:
https://tribune.com.pk/story/146479...muslim-bodybuilder-killed-faith-gang-rivalry/
Last edited: