Joe Pietaro Contributer
VIP
Author
Joined

May 30, 2014
Messages

1,160
Points

63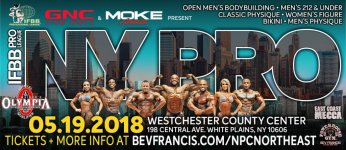 Many people in the industry consider it to be the third most prestigious show on the IFBB Professional League calendar following the Olympia and Arnold Classic (Ohio), respectively. While one can make an argument either way, there is no disputing that this year's incarnation of the New York Pro has the horses in the men's open bodybuilding category.
Twenty six men will be vying for the top spot this coming Saturday night in White Plains at the show run by Steve Weinberger and Dev Francis and it can be a toss up between a number of them. Let's take a closer look at some of the competitors:
*NATHAN DE ASHA - Hopefully his off-the-stage issues (being dropped by Yamamoto Nutrition as a sponsored athlete and going after back pay) didn't interfere with his contest prep. De Asha has the type of physique that appears to be worthy of a Sandow one day and it would be a huge step towards making that a reality by winning here.
*JUAN MOREL - "Diesel" already has one New York Pro win under his belt and looking for another. The home town bodybuilder has had trouble getting his lower body up to match a very impressive upper half of his build.
*LIONEL BEYEKE - The Frenchman put himself on the map a few years back at this show and although he didn't win it, people took notice of him and that has been the case ever since. Yes, Beyeke has had conditioning issues, but possesses a very formidable physique that cannot be overlooked.
*JON DE LA ROSA - Another New Yorker and he also happens to be friends with Morel. De La Rosa has a unique physique where he has the mass but also a nice V-taper when he's on. His lack of height may hinder him in getting more attention from the judges.
*REGAN GRIMES - The youngster returned from Kuwait and the Camel Crew at Oxygen Gym for the holidays and decided to remain state side. Many pros who make that trek find it in their best interest and only time will tell if Grimes made the right call not heading back.
*BRAD ROWE - A sleeper perhaps, but the LA native has a very impressive set of wheels and can pull off an impressive vacuum pose, as well.
*AKIM WILLIAMS & MAXX CHARLES - Two natives of The Empire State who have similar physiques - mass monsters and wide mid-sections. But they will receive huge ovations from the crowd and are both fan favorites.
So who is going to stand in the winner's circle? Considering how polished De Asha looked last week guest posing in Pittsburgh, this should be his show to lose. Only bad timing with his carbs can hurt him now; he has the size and symmetry but needs to nail down the conditioning.