Joined

Apr 10, 2014
Messages

4,219
Points

83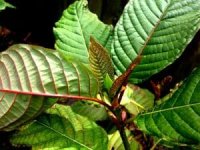 More to add to all the Kratom drama we have had recently. Just search this site and you will see for yourself. Finally it looks like we have some real experts fighting back!
I do not know and nor can I verify how accurate this article is but you be the judge.
I found this on menafn.com but originally it is reported to come from the American Kratom Association, Washington, D.C.
National Expert: No Cases Show Deaths Solely From Coffee-Like Herb Kratom, Which Should Be Handled No Differently Than Other Substances
Dave Herman, chair of the board, American Kratom Association said: "Our message today is very simple. Kratom is a safe botanical that does not kill people. If the Government bans kratom, more people will die. Kratom is an alternative to opioids, not a gateway to opioid abuse. The American Kratom Association supports appropriate FDA regulations to ensure product quality and safety for consumers."
Addiction expert Dr. Jack Henningfield, vice president of Research, Health Policy, and Abuse Liability at PinneyAssociates, said: "Recently there have been reports of kratom-associated deaths in the media. It is important to understand, and the FDA's own data confirms this, that there has not been a single verified report of an acute poisoning death that we can say with certainty was caused by kratom use. Most of the kratom-associated deaths occurred in people who had various pre-existing illnesses and/or were taking multiple substances with known serious health risks that may have been significant contributors to or causes of the reported deaths. The contribution of kratom, if any, to these deaths, is not known."
Dr. Henningfield added: "We need every asset to dig our way out of the deep hole that is the opioid crisis. We need to find a path for kratom to continue to realize its benefits to help keep kratom available as a path away from opioids, and to not replace the legal marketplace with the black market that will surely emerge in the vacuum of a lawful market. It makes no sense to take kratom out of the equation and risk avoidable opioid epidemic deaths."
The American Kratom Association reviewed the 2011-2017 data in the FDA's Adverse Event Reporting System (FAERS) and found no deaths attributed solely to kratom.
Mac Haddow, legislative director, American Kratom Association, said: "The 'signal' for public action on kratom is incredibly insignificant in the broader context of deaths reported and adverse events reported under the FAERS system.The point is that this should not even be consuming the resources of the FDA given its status in the overall reporting of adverse events and deaths. It clearly illustrates a political agenda, rather than a scientific agenda, at the FDA. Out of just 42 times that kratom is mentioned in FAERS since 2011, there is not a single death associated with kratom itself, and every one of them is related to the co-administration of other toxic levels of a prescription drug or illegal substance. The point is that the FDA did not even use its own reporting system to validate the Health Advisory on kratom.They looked to outside publicly available literature that is far vaguer and open to interpretation because their own data does not support their thesis."
Haddow cited examples of other products, including Heparin and Loperamide, that became the subject of death-related concerns and were subjected to tighter quality controls and testing, rather than a ban. Dr. Henningfield and Haddow noted that fairness alone would dictated that kratom, with a market of three million consumers, should receive the same kind of treatment.
At a news conference in Atlanta, AKA also unveiled a "statement of principle" on kratom: "The American Kratom Association recognizes that every effort should be made to keep kratom risks low, and protect consumers from adulterated and contaminated kratom products. With appropriate FDA consumer regulation, we can maximize the potential for kratom to be responsibly used for the improvement of the health and well-being of individuals and public health in America. To that end, AKA supports the following efforts:
REGULATION: AKA supports appropriate FDA regulations to ensure the safety and purity of kratom products. AKA is committed to working with the FDA to share information and collaborate in the development of reasonable regulations that will protect consumers from adulteration and contamination of kratom products.
CHILDREN: While Federal surveys have not identified the use of kratom products in children as an emerging problem, AKA nonetheless supports efforts to prevent youth use, such as consideration of minimum age of procurement laws, e.g., age 18.
CHILD EXPOSURE CONCERNS: Although we are not aware of any child or infant poisonings, AKA supports appropriate child resistant packaging.
PRODUCT PURITY: AKA believes that most manufacturers compete to provide the highest quality and purest products, and to ensure consumers can have confidence in the kratom products they purchase. AKA supports standards for product purity just as there are for most food products.
POTENTIAL ADULTERANTS: AKA believes that responsible marketers do not adulterate their products with other substances, which is a concern that has been raised by FDA. However, AKA would welcome FDA standards to prevent contamination or adulteration of kratom products with dangerous substances. AKA also supports appropriate monitoring to reassure consumers that their lawfully purchased products meet purity and manufacturing standards.
CLAIMS CONSISTENT WITH THE DIETARY SUPPLEMENT HEALTH AND EDUCATION ACT OF 1994 (DSHEA): AKA is committed to limiting claims associated with the use of kratom products to conform to the standards set in DSHEA for dietary supplements. AKA is committed to continuing to work with dietary experts and legal counsel, and will work with the FDA to ensure that AKA's statements do not constitute inappropriate claims.
LABELING: AKA welcomes FDA development of labeling and encourages FDA to work with manufactures and marketers to develop labeling that is appropriate and helpful to consumers."
Dr. Henningfield previously served as chief of the Clinical Pharmacology Research Branch of the National Institutes of Health's National Institute on Drug Abuse (NIDA), and is currently an adjunct professor of Behavioral Biology in the Department of Psychiatry and Behavioral Sciences at the Johns Hopkins University School of Medicine. Dr. Henningfield and his PinneyAssociates colleagues conducted a of publicly available data on the same eight factors that the DEA and FDA weigh on in deciding to control a substance.
According to that analysis, kratom is not an opiate, it has not been linked to any known deaths, and the plant has little potential for abuse and dependence – as low or lower than such widely used (and federally unscheduled substances) as "nutmeg, hops, St. John's Wort, chamomile, guarana, and kola nut."
SOURCE: American Kratom Association, Washington, D.C.