TalkAdmin/MuscleMecca
Staff member
Staff
Member
Joined

May 27, 2010
Messages

5,035
Points

48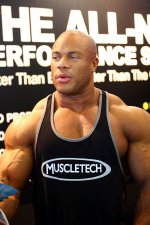 More popularly known as 'The Gift', Phil Heath was born in the state of Washington in 1979. He is passionate about his career as a professional bodybuilder in which he has claimed recognition, awards and competitions with his determined attitude. He is one of the most recognized and current faces of the bodybuilding industry. Throughout the globe people know him and he inspires today's young generation to take the challenge of bodybuilding like him.
Education
Phil Heath was brought up in the state of Wisconsin and he attended a renowned high school there. He graduated from there with flying colors and was a part of the school's basketball team. Later Phil attended the University of Denver on athletic scholarship, and acquired a double degree in IT and also he has done his MBA. He also took a part in Denver's division team in basketball. After his education he finally decided to build his career in bodybuilding.
Phil Heath's Career
Phil Heath took bodybuilding as his priority career from the year of 2002. He was keen to take body building as his professional career. His journey started from body building to an extreme height of making himself to be called 'the gift'. Phil and his passion for bodybuilding was not a smooth ride though. His dedication towards this profession helped him move forward and prove himself to be the best.
Titles
Phil Heath was crowned as IRON MAN in the year of 2008, later he was placed second at 2008 in Arnold classic. He was crowned with many more awards throughout his life such as Mr. Olympia, Sheru Classic, NPC USA championship and many more.
Phil is a spectacular body builder who won various awards and reached the highest point of his career. Phil Heath showed the world how he traveled and made his life worth to be a pro bodybuilder. His career graph is inspiring and amazing as he pursued his passion. He approaches life with completely different way that is effective and full of inspiration. He never gave up on his life. He teaches people that never give up in your life.
Mentor
Phil became more popular with time and gradually he made himself the best of the lot. He introduced himself to various magazines of fitness and also in articles related to health and fitness. His glorious work in this field helped many young builders showing them the way to be fit and build a fabulous body. Phil made his career through body building and proved his passion to be worth.
Present day
Phil became a renowned bodybuilder by winning a number of championships and awards. He defeated many other famous body builders and moved forward. He became a legend for upcoming bodybuilders who considered him as an inspirational person in this field. His training method, his bodybuilding related tips in various magazines and articles made him famous. His journey was not at all easy as he had to overcome his financial problems to build his career in this field. Phil was chosen to be a 'gift' to this bodybuilding field.
Phil inspires everyone
His dedication and willingness to achieve something even after financial hardship inspire plenty of young guns of today's generation. He says on his official website that people who struggle in his life are people who are strong. According to him, strength never appears from winning. It is your struggle phase where you develop your strength. Moral of the story is that never give up in your life and bend your back against hardship to make yourself strong.
Phil Heath's name signifies discipline, hard work, dedication and success. He and his career in the bodybuilding industry can be treated as a symbol of the unique art of a beautiful body and fitness. Phil proved bodybuilding is not only about show business but also about determination. However, Phil proved that this profession can give a glorious career if anyone can follow its method with lots of discipline and hard work.
His website:
His official website can be visited for each and every detail related to him. You can browse through contest history, upcoming events and appearance related to him; news, blogs, and other information. You can also sign up to his official website for a series of e-newsletter to learn latest workout skills and tips. Information related to him can easily be browsed through leading social networking sites.
Copyright musclemecca 2013
#TKD
Here's an HQ photo of him from the 2011 Mr O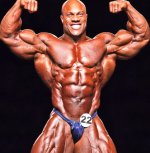 Last edited: