Joined

Apr 10, 2014
Messages

3,990
Points

48
It was Hany Rambod's birthday yesterday! Happy birthday!
Here is Phil Heath and Hany Rambod hanging out on Hanys bday!
From Phil Heath to Hany:
"Happy Birthday to my Brother and I mean my Brother @hanyrambod as he turns that Magical "45" today!!! I say magical because when I had asked Hany yesterday how old he was gonna be he said "45" and I was like "oh like Michael Jordan 45" we both laughed haha. Throughout our friendship came a ton of adversities, most of which we have never truly shared with the world, but also a huge amount of victories and I don't just mean OLYMPIA victories. See, what makes Hany my Brother is how invested he is and always has invested true, honest and genuine, vulnerability to our relationship which is something I value more than riches itself. The loyalty Hany has shown has been nothing but A-Grade and I am privileged to get to know such a Man as I've witnessed your growth as a Man, a Husband, a Father, a businessman and of course the greatest coach our sport has ever seen. 19 Olympia wins in multiple categories is unparalleled and although he doesn't get the credit he truly deserves, imma give you your respect, the flowers, the punches to the arm when we argue, but most importantly the love that only a brother can give. May you enjoy your day, weekend with @missnaz who also has a bday coming up and ofc my fave lil nephew Kameron! Much Love Always."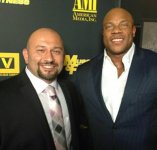 I am using the MuscleMecca Bodybuilding Mobile App!