Joined

Jun 27, 2006
Messages

13,732
Points

38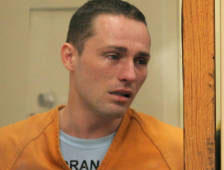 Skylar Deleon, 29, who appeared in a 1994 "Power Rangers" TV Series and starred in commercials, was sentenced to death after being convicted of murdering an Arizona couple by tying them to an anchor and throwing them overboard from their yacht.

"It is the judgment and order of this court you shall suffer the death penalty as to each count," said Orange County Superior Court Judge Frank F. Fasel, adding that he decided to impose the penalty partly because of the horrific nature of the murders.

Prosecutors said that Deleon pretended to be interested in buying the couple's nearly half-million-dollar yacht and threw them overboard during a test cruise in 2004. They said Deleon and his then-wife, Jennifer Henderson, crafted the plan to kill the Hawkses to steal their boat and savings. After the yacht killings, he and Henderson scrubbed the boat clean with bleach wipes. Deleon used his young daughter to win the trust of the Hawkses, whose bodies were never found.

"It is difficult to imagine a case where it's more cold-blooded and calculated than this series of murders," prosecutor Matt Murphy said after the sentencing. "I can't imagine a situation that is more deserving of the ultimate punishment."
My childhood memories are crushed.