Joined

Apr 10, 2014
Messages

4,084
Points

63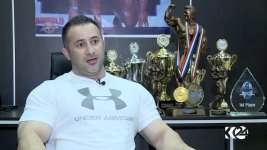 ERBIL, Kurdistan Region (Kurdistan24) – A professional Kurdish bodybuilder who has won several awards in the past hopes to represent Kurdistan in future competitions.
Ahmed Fauzi has won numerous awards while representing Switzerland in international bodybuilding competitions.
After 17 years abroad, Fauzi returned to Dohuk, in the Kurdistan Region, where he has since opened a training facility.
"I've lived abroad for 17 years," he told Kurdistan24. "I decided it was enough and came to Kurdistan to open a business."
"I opened a gym where people can perform all types of fitness-related activities," Fauzi continued.
The Kurdish bodybuilder added the training center provided "an opportunity to develop" the Kurdistan Region and gave him a place to train while living in Dohuk.
An international competitor, Fauzi dreams of winning awards in future competitive bodybuilding tournaments for his homeland of Kurdistan.
In 2015, he won gold in the 90-kilogram category of the Mr. Olympia Amateur competition in Liverpool, England.
Fauzi has since participated in four Amateur Arnold Classic competitions, winning gold in the 100-kilogram category of this year's tournament in Ohio, United States.
"In the past, I competed while representing Switzerland," he said. "I hope to represent Kurdistan one day."
"The day Kurdistan becomes an independent nation, I will be the first to represent and raise the Kurdish flag," the bodybuilder added.
Fauzi is one of the only Kurds to receive his International Federation of Bodybuilding and Fitness (IFBB) professional license.
He is now preparing for two competitions later this year in Kuwait (September) and Arizona in the US (October).