Joined

Apr 10, 2014
Messages

4,084
Points

63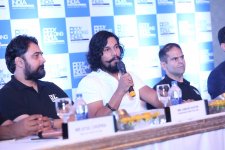 ETHealthWorld
May 19, 2017, 04:30 IST
BBI plans to invest 25-35 crores. Also launches its own line of supplements 'Ros Nutrition'
18th May 2017, New Delhi – India: Bollywood actor Mr. Randeep Hooda, co-owner of Body Building India (BBI), the largest fitness and supplements company in the country on Thursday launched "Gym 99", a unique concept of pay and play, for the first time in India.
Gym 99 will provide customers an option to pay just Rs 99 to use best-in-class gym facilities across India. The machines and equipment are imported from Europe and the US and are from renowned brands including Cybex, Fitline, Life Fitness and Precor etc.
The fitness sector in India is growth at a rapid rate of over 18 per cent and is expected to touch Rs 7,000 crore by 2017.
BBI will expand aggresively and plans to open 50 gyms across India by 2017 with an investment of Rs 25-35 crore. The investment would be funded by internal accruals including investments by franchisee owners.
"This new concept of plug and play by Gym 99 by BBI will create unparralleed demand for new audience including college students, housewives, working professionals and businessmen. Many people start to avoid gyms because they can't adopt to daily workout routine and some can't dodge work commitments, Gym 99 is meant for them. Our first gym will come up in Delhi and we are looking to expand to Mumbai, Bangalore, Kolkata, Pune, Noida and Gurgaon etc.," Mr. Randeep Hooda, Co-Owner and Brand Ambassador at Body Building India said.
The New Delhi-based supplements major also launched its own brand of supplements "Ros Nutrition" to offer best range of supplements with one of the highest efficacy levels among companies. Ros will also offer woman only range of supplements to cater to different requirements of females fitness and body building enthusiasts.
"This new line of supplements under the brand name Ros Nutrition is our own product which will be available pan India through our BBI retail stores and websites. The Uk-based Ros Nutrtion will provide fantastic results to sportspersons, proffesional bodybuilders, fitness lovers and anyone who wants to supplement their workout," Mr. Ankush Sabharwal, CEO, Body Building India.
Body Building India is an exclusive partner for Ros Nutrition in India.
Gym 99 would operate high-end premium gyms under value, premium and gold categories, each of which will have several fitness facilities.
Anyone interested simply needs to pay off Rs 99/-for an hour to avail gym facility. At such an economical price, this fitness idea is revolutionary in nature and shall make people of this country proud and healthy.
BBI plans to scale up its supplement stores to 100 from existing 30 stores across India in the next one year.
Studies have shown that over 90% gym members do not actively go to their gyms due to demanding work. Gym 99, being India's first pay-per-workout gym, offer fitness lovers an option to pay per workout session, helping individuals in staying fit, without having to subscribe to an expensive gym membership.
Gym 99 would issue workout smart card that would be refilled with hourly session passes by individuals. An individual would buy hourly session pass that would entitle him/her to workout at Gym 99 for an hour.
In India, health and fitness industry is scaling new heights. Men and women both are constantly paying attention to their fitness and leaving no stone unturned. But some still refrain themselves from joining premium gyms because of higher membership fees.