Joe Pietaro Contributer
VIP
Author
Joined

May 30, 2014
Messages

1,113
Points

48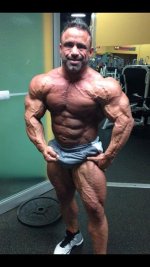 With someone as competitive as
Jose Raymond
, it's either first place or nothing else. So while others would look at his overall performance in 2014 and give him a positive grade, the man known to his fans as "The Boston Mass" would disagree.
But with his win at the recent
Europa Phoenix
, he can at least take some solace in that he placed in the top five in every one of the six shows in the calendar year.
When Raymond winded up in fifth place in the inaugural Arnold Classic 212, he needed to regroup and did so by cashing the winner's check at his next show, the New Zealand Pro.
This set up the deepest 212 Olympia in the category's short history. James "Flex" Lewis successfully defended his title, with a sharp Eduardo Correa being the runner-up.
But a well-conditioned Raymond took third place and held off the likes of Hidetada Yamagishi, Baito Abbaspour, Aaron Clark and Sami Al Haddad.
Lewis entered the Korean Grand Prix and came away a winner but Raymond was nipping at his heels. Lewis also took the EVLS Prague Pro, with Abbaspour (second) besting Raymond (third), unlike he was able to do in Las Vegas.
So with Raymond besting Mark Dugdale in the desert, it caps off a very good year...if he would agree with that or not.
Written by Joe Pietaro on 10-29-2014 for MuscleMecca.com - Copyright © 2014 MuscleMecca.com