MuscleMecca Crew
VIP
Author
Joined

May 11, 2012
Messages

2,970
Points

48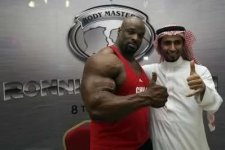 Bodybuilding is taking the world by storm and growing in countries we would never have expected it to! Check out this read on bodybuilding in Saudi Arabia. Bodybuilding is really gaining traction there! This is from the Saudi Gazette.
Saudi Gazette
JEDDAH — Bodybuilding is booming across Saudi Arabia. Inspired competitions and gyms are popping up everywhere, according to a former bodybuilding champion.
"Bodybuilding is quietly but steadily on the rise in Saudi Arabia. The number of competitive bodybuilders registered with the sports centers and Fitness centers has almost doubled over the past five years," said Zakaria Khalifa, a bodybuilding champion who currently works as a trainer.
He added, "More and more people are getting into physical training for health reasons, and more people are deciding that they want to take one step further," said Khalifa.
"At first they enter local competitions rather than national ones."
He continued: "Five years ago, we started to expand and hold competitions where the level was not so high. People could take part and enjoy themselves, and that has had an effect. There are more fitness clubs now than ever before. It's much easier to get involved or enter a competition."
He noted that young people at the moment are seeking to make achievements by fitness and are in preparation for the competitions.
They are also relying on healthy foods and proteins in order to gain access to local and international championships, he added.
Khalifa also revealed that doping has decreased, as young people are becoming aware of the serious consequences of these stimulants, unlike before.
"This is the case where the Saudi youth, rather the Arab youth, are preparing to enter international competitions. They follow special diets in a safe and healthy manner and do exercises that allow room for experiment," Khalifa said.
He advised sports centers to make sure that their trainers are certified in order that players get the real benefits and the right directions. He also suggested that there should be a special body or committee supported by businessmen to assist young athletes who are not able to afford the registration fees to participate in local and international championships.
Khalifa is currently preparing for the Bodybuilding International Championship to be held in Jeddah next month.