Daniel Andersson
Mecca Mod (not)
VIP
Joined

Oct 30, 2006
Messages

8,433
Points

38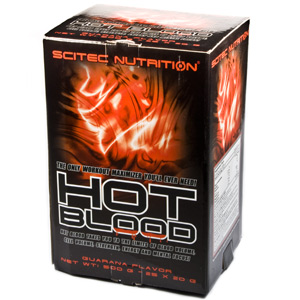 Directions:
Mix one serving (20 g - 1 scoop or 1 tablespoon) with 17 oz. (500 ml) of cold water. Use 30-45 minutes before training on an empty stomach. When using as a creatine supplement, drink one serving 30 minutes before a meal, preferably before breakfast.h. This should not be cause for alarm, it will decrease over time.
Supplement Information:
Serving Size: 20 g (1 sachet)
Servings Per Box: 25
Each serving provides: %Daily Value*
--------------------------------------------------------------------------------
Total Carbohydrate
Sodium
Potasium
Sugars
Vitamin B3
Magnesium
Phosphorus 7 g
275 mg
30 g
0 g
70 g
15 mg
40 mg
2%
11%
1%
350%
4%
4%
--------------------------------------------------------------------------------
HOT BLOOD proprietary matrix 20,000 mg
Cell-volume maximizer blend: Multi-vector creatine matrix (tri-creatine malate, tricreatine orotate), Mult-vector taurine matrix (taurine taurine ethyl ester).
Nitric oxide & vasodilation enhancerrs: arginine alpha ketog-lutarate, arginine ethyl ester, arginine ketoisocaproate, citrulline malate, citrulline malate ester, nicotinic acid.
Energizers & nootropic factors: L-tyrosine, beta-alanine, citrulline malate, citrulline malate ester methylxanthines (caffeine), niacin, evodi-amine, vinpocetine.
Antioxidant complex for NO support: green tea extract (95% polyphenols), grape seed extract (95% polyphenols), N-Acetylcysteine R-alpha lipoic acid.
Electrolyte push: potassium dihydrogen phosphate, magnesium hy-drogen phosphate trihydrate.
"Expressorb" active substance dilivery anhancement system: sodium hydrogen carbonate, glucose polymers, inulin, naringin, Bioperine,
--------------------------------------------------------------------------------
Other ingredients: citric acid, natural and artificial flawors, sucralose, acesulfame-K, red color.
Taste - 6/10
Guarana taste, which obviously reminds me of a RedBull. Initially I though that this was going to be easy to drink, but just after a few sips it got harder
and harder, my stomach felt strange after just a few minutes, a big let down imo.
Feeling - 5/10
I could feel some light tingling in my skin after 4-5min which got "better" after a while, and a slight strenght increase. I dont know if I actually started to feel tired after drinking it?
Anyway I didn't feel a kick.
Pump - 4/10
Slightly better then normal, nothing to really spend money on imo
Quality - 7/10
I took 1 sachet (20g) and dumped it in 17 oz water, and it started to mix instantly, I moved the shaker once and it was mixed
A little log on how I felt using it for the first time
5mim
I´m starting to feel some tingling in my skin.
10min
Just finished the drink, There is definitely something in this mix that makes me gag a little, nothing really bad though.
I can also feel more tingling
15min
I suddenly started to feel a light ache in my arms, I have the same feeling in my legs, calves, and groin actually

20min
More skin tingling. My stomach is a little upset too...actually feels like I need to take a dump..which I didn't before
25min
Just came back from the bathroom...
27min
Just made a nasty burp, which made a cloud of something flying out of my mouth...which gave me that "nice" Guarana flavor in my mouth again.
30min
Even more tingling, and a slight headache, not something that really bothers me since I normally get that when my bloodpreasure goes up.
35min
Damn...theres definitely something in this product that my stomach doesn't like...it sounds like theres a war going on in there..
Im not as tired anymore though, and I can feel a slight warming sensation in my upperbody...and groin as I mentioned before
60min
Just finished my shoulder session. I could feel my muscles better, but there was no real pump effect. You could get better pump with other products
If I recommand it?....I dont know...I need to try it one more time before I can say yes or no. But it points to no